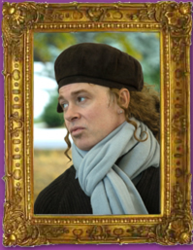 I create custom clothing for clients of all shapes and sizes. But taking it a step further, I help them define their style.
Philadelphia, PA (Vocus/PRWEB) May 24, 2011
Custom Clothing Designer, John-David Mohr of the House of Mohr, coined the phrase "Style has no Size." He talks about this Fall season's fashion trends and how the conscience consumer can maintain their own sense of style with custom clothing that transcends into any season.
"If you notice, it's not the lines of fashion which change dramatically from season to season. It is the fabrics and colors that change the most," says John-David, a Custom Clothing Designer and owner of the House of Mohr fashion boutique. To be on top of the latest season's style, all one has to do is change out the fabric and color patterns. Switching from Summer to Fall, change out your fabric from a silk to a cashmere or fine wool fabric using Fall season's trending colors. "This way, you maintain your own style, yet still enjoy looking and feeling totally fashionable," explains John-David.
Most of John-David's designs can be taken apart and put back together-- the skirts and jackets, pants and tops can all be intermingled and mixed in a myriad of ways to come up with a style that is entirely personalized and matches the season's fashion. According to John-David, this is the difference between 'style' and 'fashion'. "Style is what you do with the latest fashion trends," according to John-David. The House of Mohr designs sophisticated and trendy, yet classic garments that can be mixed and matched to transform from lightweight fabrics of Spring and Summer into Fall or Winter fabrics.
The lace and flowery patterns of this Spring and Summer are trending into the Fall 2011 fashion season, explains John-David, but the lace of Fall is a darker, more powerful color and weight to match the rich hues and chillier air of Autumn. "If you own a particular garment which really flatters you, simply have a similar item of clothing custom designed using the upcoming season's fabric weight and colors. This way, you've preserved your fashionista status and have maintained your own style," suggests John-David. The flowers of Spring bloom into bold garden patterns this Fall. Both lace and garden patterns will breach the Spring/Summer to Fall fashion season. "If you have the perfect summer skirt, have the same skirt custom made using this Fall's rich garden patterns and fabrics," recommends John-David.
The stripes of the Spring and Summer are intensifying into interesting geometric patterns and shapes in bold colors of black, red, gold, reds and blues this Fall. "The bold geometric patterns alone are works of art. And, reds are everywhere this Fall, and reds are being mixed and matched with every other bold color imaginable," says John-David.
The House of Mohr carries a full line of after-five evening wear and is already planning for this year's Fall fasion evening wear line-up. "Think 'shimmering waterfalls' - short cocktail dresses in silky, shiny fabrics of gold, silver, champagne and black," recommends John-David.
As far as evening wear, it doesn't matter the shade of evening gown, as long as it is long and sweeping. "Leg slits are back again, and this time some gowns even include trains. As long as it is very long and sweeps the floor, you'll be in high style this fall," according to John-David.
The Fall season also has a full line of funky mid-1960's mod-squad type of apparel which include Peter Pan collars and double breasted, big buttoned pea coats. John-David recommends custom-designing a version of favorite classic pea coat using this Fall's brightest shades of orange, gold, red, blue or just about any other bold color. "Simply take your own favorite cut of garment, or consult a custom clothing style designer to help develop your new style, then have some pieces custom designed using this Fall's fashion fabrics and colors - and you've taken the latest fashion and turned it into your own style," says John-David.
John-David Mohr is a custom clothing designer and stylist. He founded the House of Mohr, an upscale boutique on the outskirts of Philadelphia. He recently announced the expansion of his interactive website, http://www.mohrstyle.com, which allows customers to mix and match pieces and fabrics to create their own fashionable styles. House of Mohr regularly custom designs clothing for women sized 0 through 24. Through his recently expanded website, he designs for clients nationwide and has a significant client following in San Francisco, Hollywood and Miami.
House of Mohr boutique is located at 203 Bala Avenue, Philadelphia, PA. To schedule an appointment for a personal consultation, call (610) 747-0507, or contact John-David through the House of Mohr website at http://www.mohrstyle.com.
###