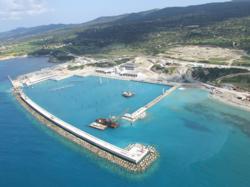 We are looking forward to welcoming our first guests to the marina, and to being part of this established yachting event!
(PRWEB UK) 16 May 2011
The yacht owners and guests participating in the rally will be the very first official visitors to the marina. During the stopover at Karpaz Gate Marina they will be offered exclusive access to the facilities, weeks ahead of its official launch. All will be provided with designated berthing free of charge, and entertainment is being arranged including a welcoming party which will be attended by VIPs and local dignitaries.
The build of the marina is in the final stages and when complete, the marina will be the most luxurious in the eastern Mediterranean. At the current time the marina breakwaters and the main marina elements of dry dock, promenade, and marina buildings are being completed.
Karpaz Gate Marina recently ran an introductory free berth offer which has generated an unprecedented level of interest from sailing and motor-yacht owners from around the world. As a result, approximately 100 berths have now been allocated. All the winners have been informed and they will enjoy complimentary berthing privileges from until 31st March 2012. Two hundred further berths are available at Karpaz Gate Marina with both short-term and long-term availability.
Roy Klajman, Director of Sea-Alliance Group, the marina management company, said: "The investment by Karpaz Bay Resort Ltd and the relentless efforts of all who have worked on the project, and their combined years of expertise and a sensible degree of flexibility, means that Karpaz Gate Marina will open on time and is expected to become one of the most popular marina destinations in the eastern Mediterranean. We are looking forward to welcoming our first guests to the marina, and to being part of this established yachting event!"
Karpaz Gate Marina is the country's first-ever luxury marina and is part of the all-new Karpaz Bay Resort (KBR). Located on the stunning Karpaz Peninsula in the north-eastern tip of the Turkish Republic of Northern Cyprus (TRNC), Karpaz Gate Marina has 300 berths available including 12 berths for super yachts and mega yachts up to a maximum of 55 metres in length.
Every detail of the marina has been designed with yacht owners and visitors in mind, and Karpaz will be an attractive destination for day and weekend trips, and where both large and small boats, and long- and short-term visitors, will be equally welcome. The management has recently announced the addition of a beach club to the facilities, which is set to be open later in the year.
The resort will also include a children's playground, gym, as well as restaurants, hotel, a mini supermarket and a range of services such as yacht brokerage, ship chandlery, a sailing school, and a diving centre as well as dining facilities. Sea-Alliance Group, the marina management company, has already secured a number of international companies to have a presence at Karpaz Gate Marina, and is currently in negotiations with others who are interested in taking the remaining available spaces within the marina buildings.
About Karpaz Gate Marina
Karpaz Bay Resort Ltd. (KBR), owned by an international group of investors, is developing a first class tourist destination, which will allow guests to enjoy the range of activities of the local "Karpaz" Peninsula.
Following the completion of the marina, development will continue with a lively commercial promenade with shops, restaurants and bars, and the first stage of a hotel complex.
Website: http://www.karpazbay.com
Facebook: http://www.facebook.com/karpazgatemarina
Twitter: http://www.twitter.com/karpazgate
Flickr: http://www.flickr.com/photos/karpazgatemarina
You Tube: http://www.youtube.com/karpazgatemarina
For more information
Contact the Karpaz Gate Marina press office:
Zoe Hiljemark, PR Account Director / Jenny Pearce, Senior PR Account Executive
E-mail: zoe(at)marketing-matters(dot)co(dot)uk / jenny(at)marketing-matters(dot)co(dot)uk
Tel: +44 (0) 1202 315555 / +44 (0) 7770 924439
Address: Marketing Matters, Unit C, Acorn Business Park, Ling Road, Poole, Dorset, UK, BH12 4NZ
###