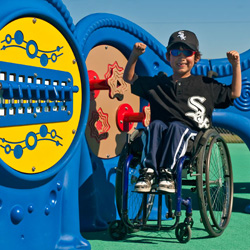 Delano, MN (PRWEB) May 15, 2011
Landscape Structures and Shane's Inspiration are celebrating their 10 years of partnership with the Together We Play™ inclusive play essay contest. The contest, which began on April 4, and runs through Aug. 1, 2011, asks communities to share their vision for an inclusive playground and how it will further their commitment to social inclusion. The community that submits the winning essay will win $100,000 in inclusive playground equipment from Landscape Structures along with $50,000 of project development, design and educational programming services from Shane's Inspiration.
Additionally, five regional winners will be selected, each of which will receive $10,000 in inclusive playground equipment along with inclusive playground design, project development and educational programming services valued at $50,000.
In January 2010, Landscape Structures Inc., a Delano, Minn.-based commercial playground equipment manufacturer, introduced the Inclusive Play playground design solution to truly welcome children and families of all abilities to playgrounds. This design solution builds on the years of experience Landscape Structures has in providing industry-leading inclusive playgrounds and age-appropriate challenges, and also addresses the sensory play needs of children with autism and other sensory-processing disorders, as well as those that are typically developing.
To further unite children of all abilities on playgrounds, Landscape Structures partners with Shane's Inspiration, a nonprofit organization specializing in the design and educational programming of inclusive playgrounds. For 10 years, Landscape Structures and Shane's Inspiration have worked to design and install playgrounds that achieve the highest levels of inclusive play, as well as provide play programming that promotes understanding of the unique abilities of every child.
The inclusive playground contest is open to representatives of U.S. and Canadian government entities (excluding Quebec), including parks and recreation agencies, schools and qualified 501(c) (3) organizations. Landscape Structures encourages all qualified contestants to enter the contest by completing an online entry form and submitting an original essay at playlsi.com/Together-We-Play. Learn more about Landscape Structures' partnership with Shane's Inspiration and get more information on inclusive play playground designs.
###