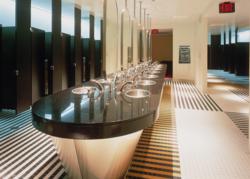 ASID salutes Excel for sharing its knowledge about and benefits of modern green restroom designs, said Michael Alin, ASID executive Director.
East Longmeadow, MA (PRWEB) May 16, 2011
Excel Dryer, manufacturer of XLERATOR® high-speed, energy-efficient hand dryers, has become a Top Level Industry Partner of the American Society of Interior Designers (ASID). The partnership reflects Excel's dedication to offering interior designers the tools, ideas and education needed to create modern, high-efficiency, green restrooms.
"As a leading professional services association, ASID salutes Excel for sharing its knowledge about and benefits of modern green restroom designs," said Michael Alin, ASID executive Director. "Green practices that conserve energy and save resources are critically important to ASID and our community of designers," continued Alin.
Excel has dedicated an entire section of its website to offering educational tools and Webinars to design professionals. The education section of http://www.exceldryer.com features a range of continuing education courses (CEU), including its newest course - Next Generation Green Restroom Design. Developed in conjunction with the U.S. Green Building Council, the course is a featured education unit in the council's new virtual tour program. Excel Dryer collaborated with Sloan Valve, a manufacturer of water-efficient solutions for the plumbing industry, to create the on-line curriculum located at http://www.exceldryer.com/education.php.
"Excel's new national partnership with ASID gives us an effective platform to bring state-of-the-art green restroom design information to an important audience," said William Gagnon, vice president of marketing and key accounts for Excel. "Excel has helped create a solid, educational curriculum and virtual restroom that brings the notion of sustainable practices to life in an intriguing presentation," continued Gagnon.
Excel's Web site has become an important resource to designers. The site tools section of Excel's home page links to specification tools that features an image library that contains downloadable product images in several formats including CAD, BIM and SketchUp.
http://www.exceldryer.com also features a cost savings and environmental impact calculator that designers can use to create detailed reports about their specific projects. The reports compare hand dryers to paper towels and show savings based on the purchasing and handling cost of paper along with the cost of electricity per kilowatt hour. The calculator also determines the specific environmental benefits of using XLERATOR dryers, detailing realistic reductions in CO2, pounds of paper towel waste, cubic meters of landfill, gallons of water, and gasoline emissions; the report also cites the specific number of trees saved by using high efficiency, high speed hand dryers.
About the Next Generation Restroom Design Virtual Tour
The tour gives designers an inside look at the best practices that go into designing modern green restroom facilities. The AIA/CSI/GBCI course emphasizes how high-efficiency hand dryers and plumbing fixtures can help reduce maintenance and cost while delivering the lowest environmental impact.
About XLERATOR®
XLERATOR completely dries hands in 10 to 15 seconds—three times faster than conventional dryers. It uses 80% less energy and delivers a 95% cost savings versus paper towels, while creating a more hygienic restroom environment. It is the only hand dryer to be MADE IN USA Certified, the first hand dryer to be GreenSpec® Listed and helps facilities qualify for multiple LEED® (Leadership in Energy and Environmental Design) credits by the U.S. Green Building Council. A peer reviewed ISO 14040 Life Cycle Assessment, of XLERATOR confirmed it reduces the carbon footprint of hand drying by 50-70% when compared to traditional hand dryers and paper towels.
# # #