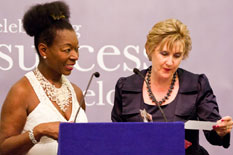 These dedicated specialists richly deserve the recognition of their colleagues across the relocation spectrum – a recognition symbolised by the Re:locate Awards.
London, England (PRWEB UK) 14 May 2011
The winners of the annual Re:locate Awards, which recognise the specialist contribution of companies and individuals involved in relocation, were announced and presented with their trophies on Thursday 12 May 2011 at a champagne reception and gala dinner held at London's Institute of Directors.
In what was a record year for entries to relocation's premier awards, HR professionals and suppliers from across the world of relocation celebrated success, good practice and innovation in their field of expertise, and were entertained and inspired in equal measure by special celebrity guest speaker and host Floella Benjamin, well-known broadcaster, actress, writer, cultural ambassador for the London 2012 Olympic Games, international children's campaigner and member of the House of Lords.
"Today's shrinking world and increasingly global economy mean that people are constantly on the move, facing new cultures and challenges," said Baroness Benjamin. "HR and relocation professionals bear the responsibility not only of supporting individuals and their families in a multitude of ways but also of ensuring that their move is a successful investment for the employer.
"These dedicated specialists richly deserve the recognition of their colleagues across the relocation spectrum – a recognition symbolised by the Re:locate Awards."
Describing the Re:locate Awards as "an established date in the diary for the relocation industry", Stella Savage, of sponsor Fully Furnished, praised the way in which the awards bring the industry together and celebrate high standards of service.
As economic recovery continues, business is becoming increasingly global, and relocation and mobility are hot topics for many organisations. Reflecting this, three new Re:locate Awards, Green Achievement, Best International Destination Services Provider, and Excellence in Employee & Family Support, were introduced this year, bringing the total number of categories to ten.
Speaking at the gala dinner, Fiona Murchie, managing editor of Re:locate, the magazine for HR professionals, global managers and relocation specialists, who established the Re:locate Awards in 2007, said, "This has been a fantastic year for the awards, with three new categories and a record number of entries. It's also wonderful to have full capacity at our dinner tonight, with more overseas guests than ever before, confirming that these awards are now firmly established in the international arena.
"Relocation is a growth industry. There is no going back. With economic recovery underway, and the world shrinking almost by the day, companies are reaching further afield in search of new opportunities and new markets. Having the right people in the right place at the right time is key to this, making the role of HR and relocation professionals more important than ever.
"Against this background, it's vital that we promote and celebrate best practice in relocation, and nurture talent.
"For the people who make relocation happen – people like you – there are fantastic opportunities out there, but there are also challenges. Your greatest challenges are to adapt to change, be flexible, react quickly, be compliant with legislation, and work together to solve problems. Through its ability to make connections across the diverse and complex spectrum of relocation, and to bring professionals from different fields together, Re:locate will support you every step of the way."
Pursuing the theme of making connections, Fiona Murchie announced the launch of Making a Difference, a new Re:locate charitable initiative for the relocation sector. "With a growing number of organisations committing to corporate and social responsibility projects, and in view of recent natural disasters and world events, now is the perfect time to put the wealth of relocation industry experience to good use."
Between them, the ten Re:locate Awards recognised individuals, teams, policy and innovation, with a choice of categories for HR and service providers. On the judging panel were distinguished figures from business, academia and the Chartered Institute of Personnel and Development (CIPD).
1. Best Relocation Strategy/Policy
Sponsored by Interdean International Relocation
Winner: Save the Children
2. Technological Innovation in Relocation
Sponsored by MoveAssist International
Winner: Move One Inc
Award for creative application of technology: Pickfords Moving & Storage
3. Inspirational HR Team of the Year
Sponsored by Cartus
Winner: BP/Pricoa Intercultural Team
4. Relocation Service Provider or Team of the Year
Sponsored by Newland Chase
UK winner: HCR
International winner: ICUnet.AG
5. Best Property Provider or Solution
Sponsored by Fully Furnished
Winner: SACO
6. Rising Star in Relocation
Sponsored by Roomservice by CORT
Winner: Anthony Gallo, London Relocation Ltd
7. Relocation Personality of the Year
Sponsored by SIRVA Relocation
Winner: Tad Zurlinden, Association of Relocation Professionals, European Relocation Association
8. Green Achievement
Sponsored by Connells Relocation Services
Winner: Crown Relocations
9. Excellence in Employee & Family Support
Winner: FOCUS
10. Best International Destination Services Provider
Sponsored by NatWest Global Employee Banking
Winner: The Relocation Bureau Ltd – Ireland
For information on the shortlists for each category, and further details of the winners, click here.
The Summer 2011 issue of Re:locate, to be published in June, will feature full details of the winners, with case studies.
For further information, phone 01892 891334, email editorial(at)relocatemagazine(dot)com or visit http://www.relocatemagazine.com
For press information, contact Louise Whitson or Fiona Murchie on 01892 891334.
Notes for Editors
Re:locate is the leading magazine for relocation specialists and HR professionals. It covers all aspects of domestic and international relocation, from policy, financial, property and legal matters to international assignments, recruitment and immigration, as well as the full raft of employee support issues, such as property, education and career options for partners. A digital version of the latest issue can be accessed at http://www.relocatemagazine.com
###