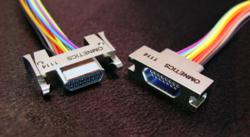 "To stay competitive we made the business decision in 2010 to enter the Micro-D market. In true Omnetics' fashion we decided to do so in a revolutionary way with an innovative improvement to an old standard."
(PRWEB) May 17, 2011
Omnetics Connector Corporation, world leader in miniature connector and cable harness solutions, has entered the Micro-D market. Within less than a year of making the decision to enter the Micro-D mix, Omnetics was awarded QPL status on Mil-DTL-83513 (Slash 01 through 04). Just entering the fray was not enough for the innovative company. Omnetics had designed a revolutionary latching mechanism for the connector. Historically Micro-D retention options were limited to screws. There has been no simple to use tool-less locking mechanism available until now. Omnetics has created a robust latching system that replaces the screws with finger release side latches on the Micro-D.
Omnetics offers this latching system in two different ways. The first option is to have the latching mechanism built directly into a metal housing that was designed specifically with the latching system in mind. The second way allows users to retrofit the latching mechanism into existing Micro-Ds. The retro fit kit utilizes the standard holes typically used to house the different styles of retention screws. Both these latching systems designed, developed and produced by Omnetics are classified as patent pending.
The Latching Micro-D comes with standard pin counts from 9-51 positions and is organized on a 50 mil (1.27 mm) pitch. This Latching Micro-Ds utilize the same contact system that Omnetics uses in their QPL Micro-Ds per MIL-DTL-83513. The performance matches and exceeds the requirements of MIL-DTL-83513. The positive latching process quickly mates and de-mates when as needed without the use of tools or the need to unscrew fasteners. The operator can click it and forget it. Designed for a wide variety of markets including Instrumentation, Medical, Avionics and Homeland Security, this new connector is sure to get noticed in the industry very quickly.
International Sales Manager, Joe Held of Omnetics, says "We have been one of the world leaders in miniaturization and nano sized connectors for many years. We have always been driven to make connectors that were smaller than Micro-Ds. We had made the decision to stay out of the crowded Micro-D market and stuck to that decision for over 25 years. However, we have noticed more and more Micro-D manufacturers coming into our nano world. To stay competitive we made the business decision in 2010 to enter the Micro-D market. In true Omnetics' fashion we decided to do so in a revolutionary way with an innovative improvement to an old standard."
About Omnetics
Omnetics was founded in 1984 to deliver rugged, reliable interconnect solutions for the most demanding industries. The company has a fully integrated design and manufacturing plant in Minneapolis, Minnesota USA, where it produces micro and nano miniature interconnect products, featuring COTS, Standards and Custom connectors for industries such as Medical, Military, Aerospace, Defense and other technology oriented OEMs.
For further information:
Lori Abfalter: Omnetics Tel.: 763 746 8711
Email: labfalter(at)omnetics(dot)com
http://www.omnetics.com
# # #