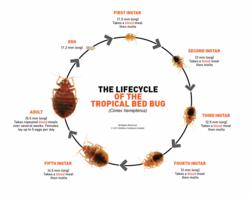 Bed bugs need a blood meal to move through their lifecycle stages
(PRWEB) May 16, 2011
Over the last few years, bed bugs have become a media subject of epic proportion – with many column inches regularly dedicated to the subject. The pest is not a new one – in fact it has been around for thousands of years – however not enough is known about its' biology and behavior, resulting in a lack of consistent success in the management of bed bug infestations.
As the problem continues to grow more attention is being given to the subject and this week (12th May 2011) has seen new research being released by the Centre for Disease Control and Prevention (CDC). The organization published results of a peer reviewed paper suggesting that bed bugs may be capable of playing a role in disease transmission – something that has traditionally been dismissed. The study, undertaken on a relatively small scale provides evidence of the ability of bed bugs to carry bacteria such as MRSA, and even though the report states a clear need for additional research, it speculates that due to the fact that bed bugs bite or feed on humans there is a potential for transmission of bacteria during this feeding process.
Why do bed bugs bite? Bed bugs go through a series of lifecycle stages from egg, through five stages of nymph before becoming an adult (see right). In order to reach the next stage of their lifecycle, bed bugs must take a blood meal – unfortunately, even though they are known to feed on other mammals, they do also like to feed on human blood. Whilst studies show that many people do not react to bed bug bites , many people do suffer physical reactions to the bites that often then lead to subsequent social and psychological problems, ranging from lack of sleep through to the loss of a job or relationship. It is unclear whether it will be proved in future research that bed bugs can pass disease or bacteria between human hosts or not. What is clear is that the bed bug is a difficult pest to deal with and it is essential that the level of knowledge about bed bugs is increased if we are to start to be effective in tackling the problem.
Although much has been said about the complicated and costly process of exterminating bed bugs, not enough attention has been given to the fact that if their presence is detected soon after entering a space, bed bugs can be removed before they have a chance to feed, breed and infest. The bed bug population growth model created by bed bug experts at MidMos Solutions – which can be seen at http://www.bbpopulationdynamics.com– highlights the fact that if bed bug infestations can be identified before the 90 day marker, the numbers of bed bugs and chance of success in dealing with them is much higher. The BB ALERT® monitoring and early detection system, by MidMos Solutions, is designed to identify bed bug infestations at an early stage before their populations grow out of control. These easy to use, chemical free products also help business owners avoid the potentially disastrous experience of giving bed bugs to clients and guests.
"It's hard to imagine that anyone can afford not to use early detection," said Jonathan Kitto of MidMos Solutions. "In multi-unit buildings, monitoring tools can prevent bed bugs from spreading from one apartment to another. In hotels when detected early, bed bugs can be dealt with effectively, at lower cost and before customers get bites and decide to sue, and before rooms have to be closed for weeks for chemical treatments".
Whatever the outcome of further research into the ability of bed bugs to vector disease, it is clear that early detection of an infestation and quick appropriate action is essential.
To learn more about early detection and BB ALERT® bed bug monitoring tools, please visit: http://www.BedBugsAlert.com
Source information:
http://www.cdc.gov/eid/content/17/6/pdfs/10-1978.pdf
Sensitivity to bites by the bedbug, Cimex lectularius. K . R E I N H A R D T , D . K E M P K E , R . A . NAY L O R and M . T. S IVA-JOTHY
###