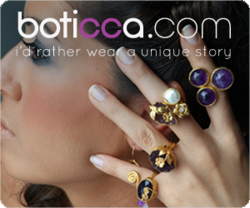 Boticca.com offers emerging designers the opportunity to engage with a global audience and has the power to unlock great potential in a very fragmented marketplace.
London (PRWEB UK) 16 May 2011
Boticca.com, the first global online destination for accessories that connects customers directly with top independent designers all over the world, today announced plans for further international growth with the close of a £1.5 million (US$2.5 million) funding round from retail, luxury and e-commerce heavyweights. The investment was led by ISAI, a fund comprised of 70 of the most successful Internet entrepreneurs in France, including founders of Vente Privée and Priceminister, and joined by Annoushka Ducas and John Ayton, the founders and former owners of Links of London and current owners of Annoushka Jewellery; prominent Silicon Valley investors, led by Bobby Yazdani, an early investor in Google; and Digital Garage, the Japanese Internet incubator whose investment portfolio also includes Twitter.
Boticca.com's team, led by co-founders Kiyan Foroughi and Avid Larizadeh, is revolutionising the global accessories e-tail experience for designers and customers alike. They put customers directly in touch with hand-selected emerging jewellery and accessories designers from all over the world in a curated, editorialised marketplace. For the first time in a luxury environment, independent designers make the lion's share of the economics without the impervious distribution channels and mark-up traditionally associated with the retail experience, whilst benefiting from having their individual brands at the forefront of Boticca.com's business.
The site combines the advantages of the marketplace model, including community engagement, negative working capital and no inventory, with the strength of the traditional retail model in branding, curation and merchandising control. Boticca.com's disruptive approach has allowed it to quickly build a scalable global business, whilst maintaining the authenticity and quality of the designers and accessories it presents.
Since its public launch in October 2010, Boticca.com has already achieved traction from celebrities, royalty and customers spread evenly across North America, Europe and the rest of the world, primarily in the Middle East and Japan, who spend above £100 (US$164) per transaction. Sixty per cent of all transactions are transcontinental, enabling emerging designers to reach a global customer base from the get-go. Customers can read the stories behind over 4,000 accessories, interact with and buy directly from the 180 handpicked designers in more than 30 countries.
The profile of the investors mirrors the team's global ambition to build a brand combining e-commerce and merchandising expertise with a deep sense of creativity and luxury. The Series A investment will enable Boticca.com to accelerate its growth by expanding its marketing efforts and editorial elements, enhancing the customer experience and bringing new talent on board. As part of the deal, Jean-David Chamboredon of ISAI joins the board of directors, alongside Olivier Mathiot, co-founder of and VP of Marketing for Priceminister, France's leading e-commerce marketplace; and John Ayton, who brings 20 years of jewellery retail and luxury experience.
Mr. Chamboredon, CEO of ISAI, said: "Boticca.com is ISAI's first investment outside of France. Once we'd met with the founders, we immediately identified a project that fits perfectly with our investment mandate. The market opportunity is huge, current momentum is impressive, and we're very familiar with the business model. We look forward to helping the company reach its great ambition."
With strong quality controls in place around customer service, materials, design process, photography and shipping, Boticca.com gives professional and semi-professional designers the opportunity to build their brands in a beautifully curated, global environment with PR and marketing support. Designers are given guidance on how best to present their work, the number of pieces they stock, prices and shipping, but they ultimately have full control of their own brands. Their voices combined with a strong editorial component bring to life the stories and inspiration behind their collections.
Mr. Ayton said: "I meet many new talented designers who struggle to find a marketplace for their fabulous work in an industry which is often quite conservative. Boticca.com offers emerging designers the opportunity to engage with a global audience and has the power to unlock great potential in a very fragmented marketplace."
"Today, people are looking for meaning and authenticity in everything they do, and this extends to what they choose to wear," said Mr. Foroughi, CEO and co-founder. "Accessories add that touch of uniqueness to an outfit, and no one should have to settle for skillfully-marketed, impersonal, mass-produced products. It is incredibly rewarding to empower independent creative professionals to find a commercial outlet and receive the recognition they deserve on a global scale for their exquisitely unique work."
About Boticca.com
Boticca.com is the global online destination for accessories that connects customers directly with top independent designers all over the world. Boticca.com makes it easier and more enjoyable for customers to discover high-quality, unique designer jewelry, bags and accessories with a meaningful story. The marketplace is curated and edited by a team of fashion experts, designers, stylists and collectors, who illustrate the culture, stories and inspiration behind the collections on the site. With headquarters in London, Boticca.com has handpicked more than 180 emerging designers from over 30 countries and offers a selection of more than 4,000 pieces of jewelry and fashion accessories.
About ISAI
ISAI is the French internet entrepreneurs' fund. It was founded by Pierre Kosciusko-Morizet (PriceMinister), Geoffroy Roux de Bezieux (Virgin Mobile), Stéphane Treppoz (Sarenza) and Ouriel Ohayon (ex TechCrunch.fr) and it is managed by Jean-David Chamboredon (CEO of ISAI, ex- 3i) and Christophe Raynaud (COO of ISAI, ex-Paris Business Angels). ISAI invests in rounds ranging from 500,000 to 1.5 million euros in young internet companies that pass rigorous selection criteria, then actively supports them by giving them access to its ecosystem. Alongside the founders http://www.ISAI.fr includes more than 70 individual investors in the ISAI Fund, including founders, executives or former executives of 118218, 24h00, Abaxia, Aden Classifieds, Alapage, Alloresto, APosition, AuFeminin, BourseDirect, Boursorama, BDDP, B2L, ChateauOnline, CityVox, Companeo, Criteo, DirectGroup, Directinet, Empruntis, FastBooking, Fia-Net, FittingBox, Fortunéo, Freever, FullSix, Google.fr, HighDeal, Ilog, InfoBébés, Kelkoo, Micromania, MisterGoodDeal, MyPix, NetCentrex, NotreFamille, Okyz, OneDirect, PhotoBox, Photoweb, PickUp Services, PriceMinister, Prosodie, Sarenza, ScreenTonic, SeLoger, Sophis, SpecificMedia, ThePhoneHouse, TravelPrice, Twenga, Vente-Privée, VisionIQ, VoyagerMoinsCher, Wanadoo, WebHelp, Wcube, WizzClub. ISAI currently has 35 million euros under management and is an AMF authorized portfolio management company.
About Digital Garage, Inc.
Digital Garage, Inc., founded in 1995, has gone on to create a wide variety of business endeavors based on our core strengths: cutting-edge Internet technology, marketing technology with focus on usability, and financial technology that harnesses total solutions. The footsteps of Digital Garage --its path of creating new context as well as numerous business models-- have been and will be a guidepost for Internet business in Japan in the 21st century.
About DG Incubation, Inc.
DG Incubation, Inc., a wholly-owned subsidiary of Digital Garage, Inc., was founded in July 2005 in order to establish Digital Garage's new business investment and development operations as a separate entity. Currently investing in about 10 companies including Twitter and Path.
# # #