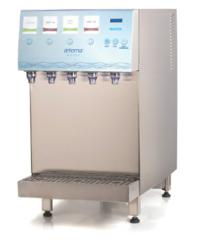 The most innovative, fully customizable multibeverage system on the market
Chicago (PRWEB) May 16, 2011
On the heels of the outstanding industry response to Aeterna's Waterwave™ fully-customizable multi-beverage delivery systems at the New England Food Show, Aeterna shakes up the HORECA market with the first market-ready "Flavored Waters on Tap" system being unveiled at Chicago's prestigious NRA event on May 21st.
"Imagine the finest still and sparkling waters combined with Sicilian Blood Orange, Ruby Raspberry and Citrus Sparks to create an endless flow of customizable beverages with no high fructose corn syrup, no glycerine! Aeterna has pre-empted the market by fulfilling HORECA's wish list for superior quality, unique product, higher margins and eco-friendly processes", states Claudio Di Persia, CEO of Aeterna Water.
Flavored and enhanced water is the fastest growing beverage segment in the industry, available till now only in glass and plastic bottles. Ecologically committed Aeterna Water solves a dual consumer need by offering a fresher beverage delivered "on tap" (still or sparkling) side by side with a "green" solution for abating the proliferation of plastic bottled beverages.
With its sleek line of "Made in Italy" dispensers suitable for all volume needs (40/80/120/220 liters per hour), the Aeterna systems surpass the cost and efficiency challenge of the competition. Furthermore, its fully recyclable Body Glove filter, manufactured by 3M, is the only one of its kind to be integrated in a multi-beverage system.
"One taste of our "Flavored Water on Tap" and a hands-on experience of our fully-functioning dispensing systems at our NRA Booth 786 will be testimony to the high value proposition we offer, a winning deal for the supplier and the consumer", affirmed Antonio Bucciarelli, West Coast Director of Sales for Aeterna Water.
Aeterna's eco-friendly business culture proposes a superior, high quality product and a service that contribute to reducing plastic in favor of glass, eliminating waste and run-off water, reducing unnecessary energy for cooling, stocking, and transportation related to classic water systems, and performing all customer relations in a paperless environment.
About the NRA: The NRA is held at McCormack Place in Chicago. Show hours are Saturday, Sunday and Monday, May 21 - 23 from 9:30 – 5:00, and Tuesday, May 24 from 9:30 – 3:00 pm. Further information can be obtained at http://show.restaurant.org/NRA11/public/enter.aspx
About AETERNA WATER: Aeterna Water is a Florida based corporation bringing a revolutionary and ecological approach to water and water based beverages (still and sparkling) for hotels, restaurants, institutions, offices, retail environments and residences. Using state of the art technology, the Aeterna Waterwave Systems ™ respect the environment, eliminate the negative impact of traditional water in bottles and jugs, create zero waste water, have fully recyclable filtering, and obtain a competitive cost per liter over other forms of bottled beverages. Delivered and carbonated seconds before use, purity and freshness are at their optimum. Aeterna is a carbon footprint conscious business that is paperless, using digital media for all its transactions. A portion of its sales goes directly to charities such as the Surfrider Foundation that support environmental causes.
For more information contact:
Aeterna Water
5151 Collins Ave, Suite CU-224
Miami Beach, FL 33140
T:1.866.866 water
E:info(at)aeternawater(dot)com
http://www.aeternawater.com
Aeterna Water and all Aeterna Water product names and logos are trademarks or registered trademarks of Aeterna Water or its subsidiaries in the United States and in other countries.  Names of products from other vendors mentioned in this document may be trademarks or registered trademarks of their respective owners. Except for the historical information contained herein, matters discussed in this news release may constitute forward-looking statements that involve risks and uncertainties that could cause actual results to differ materially from those projected.
# # #