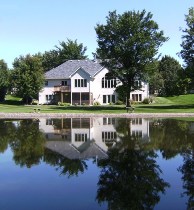 Rogers, MN (PRWEB) May 16, 2011
Lake Restoration is proud to introduce the PondRestore Ultra package, one of the most cost-effective ways for pond owners to control nuisance aquatic weeds and algae.
"Sometimes people order a 'quick-fix' for their pond and it ends up not doing anything for them. I'm trying to change that by offering customers a product that will fix everything that could be contributing to a pond's poor health: weeds, algae, and excess nutrients," said Kevin Kretsch, president of Lake Restoration.
Every spring marks the return of pond weeds. One of the most detrimental plants to a pond's beauty is duckweed. Duckweed is a free-floating plant that covers the surface of ponds, leading to oxygen depletion and photosynthesis interference. Once duckweed has infested a pond, the pond will quickly begin to resemble a swamp. Most small to mid-size ponds become infested with duckweed because it clings to the feathers of waterfowl and is easily spread as the birds travel between water bodies. With PondRestore Ultra, pond owners can rest assured that their pond will stay looking great all season long without having to dread the return of the "swamp thing."
When purchasing a PondRestore Ultra, Lake Restoration allows for customers to upgrade their purchase by adding the Extended Care kits. For the duration of the season (late Spring through early Fall), Lake Restoration will strategically send out specific packages for dealing with the aquatic nuisances of that time of the season. This allows for customers to properly treat their ponds with the right products at the right time.
While there are other pond weed control packages available, none are as cost-effective as PondRestore Ultra. When combined with the Extended Care kits, PondRestore Ultra becomes an immense convenience to the average pond owner that simply wants their pond to look great.
Lake Restoration is a pond weed control company that is located in Rogers, MN.
# # #