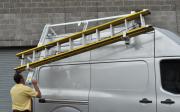 Adrian, MI (PRWEB) May 16, 2011
Adrian Steel Company, a leading manufacturer of commercial van and pickup equipment, is proud to announce the release of a drop-down ladder rack for the high roof Nissan NV van. The LoadsRite ladder rack lowers the ladder down to you for safe and easy loading and unloading.
Cargo space on top of the high roof Nissan NV has never been so accessible! The LoadsRite drop-down ladder rack protects ladders while safely transporting them on top of the Nissan NV. Design features include rollers and dampers that create a smooth transition to the stowed and down positions; an easy-reach handle that lowers toward the ground; automatic clamping of the ladder and the ability to open the van doors when the rack is in the down position.
The LoadsRite ladder rack is easy to use! Just attach the handle that conveniently stows inside the van and rotate until the ladder bed is in the primary drop position. Then, using two hands, release the latch and pull the ladder bed down into the secondary drop. Unload the ladder one end at a time to minimize back strain!
Adrian Steel, founded in 1953, provides cargo management solutions for commercial vehicles. Adrian Steel's attention to detail and customers is thorough. We have developed a comprehensive network for handling all your vehicle needs, no matter how many units you need or where your vehicles will be put to work.
For more information about the Adrian Steel LoadsRite drop-down ladder rack for the high roof Nissan NV and other cargo management solutions please visit the all-new http://www.adriansteel.com to view the product line, request catalogs and find local, authorized distributors. This information is also available by calling Adrian Steel, toll-free, at 1-800-677-2726.
# # #