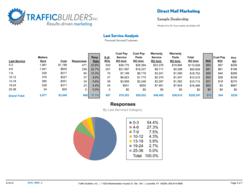 We've put a lot of effort into developing some of the best direct marketing reporting in this industry and wanted to create a user-friendly interface where our clients can access their reporting and more
Louisville, KY (PRWEB) May 24, 2011
Traffic Builders, Inc. announces the launch of a new online reporting application called REV®Live! which provides real-time response reporting for automotive dealerships' service marketing activity.
This new tool gives automotive dealership Fixed Operation VPs and Service Managers the resource to fully engage with their Traffic Builders marketing program. It allows them to track individual campaigns, view trends, and determine ROI, plus it provides solid data upon which to adjust future marketing strategy.
Clients gain access via a unique login that allows them to view current and historical reporting for direct mail campaigns and service reminder programs as well as a monthly analysis of their database. This Database Diagnostic™ provides a snapshot of the dealership's DMS in order to help them acquire a better understanding of their market segments, marketing impact and customer behavior.
"We've put a lot of effort into developing some of the best direct marketing reporting in this industry and wanted to create a user-friendly interface where our clients can access their reporting and more," says Nick Simon, Product Development Manager at Traffic Builders, Inc. "With the amount of data available along with the structure we've used to build the application, we know our clients will receive great value from this service."
The application was developed as a proprietary reporting application by Traffic Builders and is hosted in a secure and firewall-protected environment to ensure the safety of their clients' data. "We take our reporting and data security very seriously at Traffic Builders. We want to ensure that we can provide our clients with the best data services to help support their marketing strategies," says Chuck Patton, Managing Partner.
For more information about REV®Live! or to watch some videos explaining this new service then visit http://www.revreports.com. Future plans for expansion include the addition of trending reports and the ability to access all previous design work in relation to the reports available.
About Traffic Builders
Traffic Builders, Inc. is a strategic direct marketing agency with proven expertise in providing analysis and results-driven solutions that drive traffic and maximize profits for their clients in the automotive service industry. Based in Louisville, Kentucky, Traffic Builders serves clients all over the United States creating customized direct marketing campaigns that include direct mail, e-mail marketing and more. If you would like more information about Traffic Builders or their direct marketing services, please visit http://www.trafficbuildersUSA.com or call 1-800-814-9696.
###