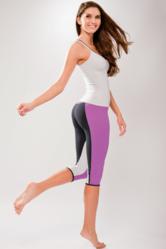 When you look better in your workout clothes, you are more encouraged to stick with it.
Miami, FL (PRWEB) May 16, 2011
Inspired by the sexy, multicultural vibe of South Florida, Muse Activewear is hi-performance fitness apparel that compliments a woman's shape. Made of high quality SUPPLEX®, a durable and breathable fabric, the clothing is designed for optimal performance and comfort.
The current collection features a number of styles including a Crossover V-Neck Top, Capri Body Suit, Yoga Fold Over Pant and the top-selling Mesh Cropped Hoodie. Color selections include vivid pink, orange, and yellow influenced by the bright and vibrant South Beach lifestyle. The flirty necklines and cut of the pants add femininity and style to a woman's workout routine.
"When you work hard on your body, women want to look sexy and stand out among everyone else who's working out," said Liza Gonzalez, Founder and CEO of Muse Activewear, "I was unhappy with the lack of options from the national brands, so I developed Muse Activewear to fill that void."
The SUPPLEX® material used for the clothing is machine-washable and easy to maintain. While it is strong enough to endure any type of workout, the fabric also feels soft next to the skin and helps shape the body so a woman looks better in her clothes, and likes how she looks when she does it. Muse Activewear was created to inspire women to move, perform and live with style, femininity and comfort.
"I know it's hard to stay motivated to exercise and lose weight. Our clothing has the right combination of SUPPLEX® and Lycra®, which helps sculpt the body and make those bumps look and feel smoother," said Gonzalez. "When you look better in your workout clothes, you are more encouraged to stick with it."
The Muse Activewear online store is available at http://www.museactivewear.com. Muse Activewear is also on Facebook and Twitter.
Media Contact:
Kamila Pritchett
305-420-5252
###