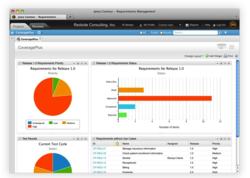 Now with test management integrated in Contour 3.1, my team has greater visibility across requirements and test cases, so we can consistently deliver quality with every release.
Portland, OR (PRWEB) May 17, 2011
Jama Software, the leader in collaborative requirements management solutions, today announced Jama Contour 3.1, the latest version of its powerful Web-based software that provides a centralized communications hub to initiate, discuss, change and track requirements throughout the entire development process. New features in Contour 3.1 include test management capabilities for quality assurance, requirements reuse for synchronizing requirements across projects, and custom project dashboards for greater visibility.
"To confidently and consistently deliver great projects, the process requires a shared vision and seamless interaction between all the people involved," explained Eric Winquist, CEO of Jama Software. "With Contour 3.1, we continue to remove the communication barriers inherent with managing complex projects by adding integrated testing capabilities to help teams identify gaps in coverage, execute test plans and resolve issues before they become costly defects."
Contour is a specialized collaborative solution that manages the details, decisions and ongoing discussions that revolve around the requirements and test cases of a project. Delivered through a lightweight, flexible and easy-to-use Web application, Contour provides the core functionality needed for project collaboration, requirements management, change management and test management - including traceability, coverage, change control, test plans, reporting and its unique Review Center for gaining buy-in with stakeholders. Its main function is to connect everyone together – from product executives and project managers to business analysts, QA specialists and developers – and keep them in sync through real-time discussions, revisions and collaborative decision making. Contour ensures that plans and specifications are properly managed and, when modified, communicated across distributed teams and stakeholders instantly.
"Contour is a tool we rely on every day. It provides us a shared understanding of what we're building for our clients, which in software planning can change frequently," said Tim Hollosy, Chief Technical Architect at Kunz, Leigh and Associates, a software development consulting firm, "Now with test management integrated in Contour 3.1, my team has greater visibility across requirements and test cases, so we can consistently deliver quality with every release. We could never work this fluidly with Word documents alone. Contour is critical to the success of our projects."
New functionality available in Contour 3.1 includes:
Test Management:
QA managers, ensure test coverage with end-to-end traceability. Create, manage and execute test cases in any number of test plans and see the results within Contour.
Requirements Reuse:
Business analysts, share a repository of commonly used requirements, use cases or other items, and keep the shared items in sync across projects.
Project Dashboards:
Project managers, customize and assemble project-level views of activity and data using the new reporting widgets within the dashboards in Contour.
Learn more and watch videos: http://www.jamasoftware.com/confidence
Pricing and Availability
Contour 3.1 is available now as an on-site solution companies self-host or as a secure, on-demand solution hosted by Jama. Flexible licensing options are available and pricing starts at $700 per named user per year, which is less than $59 per month. For more information, videos and free trials, please visit http://www.jamasoftware.com/trial
or call toll-free 1-800-679-3058.
About Jama Software
Jama Software is the leader in collaborative requirements management solutions for improving enterprise collaboration and managing complex software development projects. Its Web application, Jama Contour, helps organizations manage the entire requirements management lifecycle through an intuitive, easy-to-use interface that brings people, teams and ideas together to ensure software quality is delivered as specified. Customers, from agile start-ups to the largest and most sophisticated technology and IT organizations in the world, turn to Jama to help drive innovation, improve the decision-making process and harness the collective genius of all stakeholders involved in building great software. For more information please visit http://www.jamasoftware.com
###