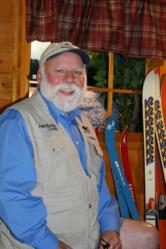 Plattsburgh, NY (PRWEB) May 13, 2011
The Adirondack Coast Visitors Bureau, a division of the North Country Chamber of Commerce, and Mountain Lake PBS, today announced the creation of "Adirondack Coast Minutes," a series of short videos that will help to promote tourism on the Adirondack Coast.
"Adirondack Coast Minutes" written, produced and hosted by Derek Muirden, Senior Producer Emeritus at Mountain Lake PBS, will focus on a wide variety of topics and interests showcasing all four seasons on the Adirondack Coast. Thirty-second spots will air on Mountain Lake PBS throughout the year and longer versions of the spots will be used in various online marketing efforts to help promote area tourism as Mountain Lake PBS reaches far north into Quebec and Vermont.
Michele Powers, Vice President of Marketing for the North Country Chamber of Commerce said, "This is a great opportunity to promote the Adirondack Coast. Derek is well known in all of Quebec from his work on shows such as Roadside Adventures and Rustic Living. His advocacy of Lake Champlain and the Adirondacks will help us spread the word about the Adirondack Coast and all the opportunities awaiting visitors."
In addition to "Mountain Lake Minutes, "other Adirondack Coast-centric videos produced by Mountain Lake PBS will be integrated into goadirondack.com, the official tourism website of Clinton County, NY. The two organizations will also cross-promote at various tradeshows and events.
This weekend, Muirden will attend the Travel and Outdoor Festival in Parc Jean-Drapeau from May 13-15 with the Adirondack Coast Visitors Bureau. This is the third consecutive year that the Visitors Bureau has attended the show which attracts more than 30,000 outdoor enthusiasts.
"Mountain Lake PBS has a strong history of promoting our region through hundreds of hours of locally produced programs, so we are very excited about the partnership with the Adirondack Coast campaign – it's a great fit," said Alice Recore, President and CEO of Mountain Lake PBS.
"Adirondack Coast Minutes" will begin airing this summer.
###