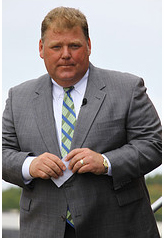 "You'll get some insight and really realize what a great and fun job I have here as the General Manager of the largest sports and entertainment facility in all of New England – New Hampshire Motor Speedway."
Loudon, NH (PRWEB) May 15, 2011
New Hampshire Motor Speedway executive vice president and general manager Jerry Gappens will be featured on New England Cable News' new TV show series "The Boss," Monday May 16, beginning at 8 p.m.
New England race fans can get a glimpse of what it is like to walk a "Magic Mile" in Gappens shoes during the episode, which was filmed at the NASCAR Sprint Cup Series SYLVANIA 300 last September.
"The Boss," is a closer, more personal look at CEOs from some of New England's favorite companies. NECN shot "The Boss" exclusively on-location as the cameras followed the CEOs inside their businesses, at home and at play. They share the secrets of their professional success and show their personal side as well. Famed narrator Jim Forbes, the voice behind VH1's "Behind the Music" and "ESPN's Sports Century," narrates each episode of "The Boss."
"The Boss" airs every Monday at 8 p.m. and will re-air Tuesday at 8 p.m. and Saturday and Sunday at 10 p.m.
Visit http://www.nhms.com/jerrygappens for more information including behind-the-scenes clips with Jerry Gappens and a sneak peak on his appearance on NECN's "The Boss".
New Hampshire Motor Speedway's season of speed is finally here. Purchase your tickets online at http://www.nhms.com/tickets for the LENOX Industrial Tools 301 on July 17, the INDYCAR 225 on Aug. 14 or the SYLVANIA 300 on Sept. 25 by calling the NHMS ticket hotline at (603) 783-4931.
# # #