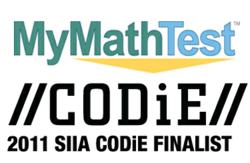 Boston (PRWEB) May 16, 2011
MyMathTest is a finalist in the prestigious 2011 Software & Information Industry Association (SIIA) CODiE Awards. Pearson's online testing tool that assesses students' strengths and knowledge gaps and provides a personalized learning path in response is honored in the Best Mathematics Instructional Solution category.
Established in 1986, the CODiE Awards celebrate outstanding achievement across the software, digital information and education technology industries. Nominated products undergo an intensive review by subject matter experts, analysts, journalists and other respected authorities in education technology.
MyMathTest allows instructors to assess students' skills against course prerequisites and create short refresher courses to help students get up to speed quickly as they prepare for additional courses or standardized tests. Based on each student's initial test results, MyMathTest generates a personalized study plan that shows at a glance which topics each student needs to practice. The study plan links directly to interactive, tutorial questions that the students use for practice. Practice questions include multimedia resources, such as videos and animations that help students develop their understanding of the topics.
"MyMathTest evaluates each student's skills and then provides a personalized plan for learning that focuses on exactly what he or she needs to learn in order to ensure success in mastering math in a college or university environment," said Greg Tobin, President of Math and Statistics for Pearson Higher Education. "It is an honor that our peers in the ed-tech community have recognized the power of our online tool for math assessment and instruction."
For the second consecutive year, Pearson tops the list of companies with products named as CODiE finalists, with 15 innovative ed-tech and information management products earning recognition. All were developed based on the company's commitment to leveraging the power of technology and innovation to prepare today's students for success in college and careers. Pearson products earning finalist honors span the spectrum of today's breakthrough education and business technology products, such as mobile learning apps, educational games, technology-driven professional development and robust systems for managing information and data. Pearson's programs are focused on college- and career-readiness and preparing students to meet the Common Core State Standards.
In addition to MyMathTest, the company's products moving on to the next round of competition in this year's CODiE Awards are Briggs/Cochran Calculus; enVisionMATH: Understanding Fractions; EQUELLA; Grammar Jammers Primary Edition; Hospitality and Tourism Interactive; MyLiteratureLab; MyMathLab Algebra I and II; MyMathTest; MyReadingLab; myWorld Geography; PowerSchool; PowerTeacher 2.0; SuccessMaker; SuccessMaker Collaborate; and Words Their Way Online Workshop.
In the next step of the CODiE Awards process, MyMathTest will be voted on by the entire SIIA membership, who determines the winner in each category. The CODiE Awards will be announced at the 2011 Ed Tech Industry Summit in San Francisco on May 23.
About Pearson
Pearson, the world's leading learning company, has global reach and market leading businesses in education, business and consumer publishing (NYSE: PSO).
For more information, press only:
Lisa Wolfe, L. Wolfe Communications, 773-227-1049, lwolfe(at)lwolfe(dot)com
# # #