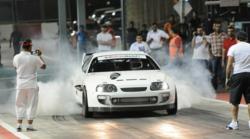 I still can't believe what happened tonight.
Sakhir, Bahrain (PRWEB) May 15, 2011
The EKKanoo Racing Team ran the table at the Bahrain Drag Racing Club Final Round in Bahrain this evening, setting an Outlaw 6 Cylinder E.T. Record and winning the event thus winning the Championship for the 2010-2011 season. Owner/Driver Ebrahim Kanoo, of Manama, Bahrain secured his unprecedented second Outlaw 6 Cylinder Championship in a row in just 7.676 seconds to defeat fellow driver and sometimes Pro Mod shoe Saad Al Murran also of Bahrain who posted an 8.78 elapsed time.
The team started the weekend off at Wednesday's Test N Tune running a 7.76 e.t., which was one of their better runs. Counting the points for the championship that evening, the team realized that from their second place position their only hope to win would require some excellent racing and a bit of luck. In fact the team would have to win the event, set a record and the points leader would have to bow out a round earlier for them to have a chance. With team tuner Shane Tecklenburg, of Mission Viejo, Ca, USA remotely connected over the Internet and making tuning adjustments between runs and crew chief Haider Koohzad of Al-Muharraq, Bahrain turning the wrenches, the team prepared for qualifying on Thursday. Their first run was a 7.84 e.t. at 280 km/h. After a few adjustments the team ran a 7.78 e.t. at a whopping 301 km/h during the second qualifying run which tentatively secured the e.t. record.
Round one of eliminations saw the EKKanoo team post a 7.75 e.t. at 284 km/h for the win and a new record (backed up by the 7.78) and a bye run in the second round secured them a spot in the final round to face Al Murran. As luck would have it Al Murran took out the points leader in his semifinal round run which left the opportunity open for the Kanoo and team to win not only the race but their second consecutive BDRC Outlaw 6 Cylinder Championship.
"I'm very happy, this means a lot to me," said an emotional Ebrahim Kanoo. "At last this car is paying us back for all of our hard work. To do it here, today, representing EKKanoo WLL is just....I still can't believe what happened tonight. Thank you to Shane T, Haider and my friends and team without you I wouldn't be able to achieve this."
Tuner Shane Tecklenburg commented "the team is really working well together and I am so proud to be considered a part of it. Even though I am 7000 miles away I have all the data at my fingertips when the guys are racing so its just like I am there in real life except there is certainly a disconnect. Haider Koohzad has to be my eyes, ears and hands over there and he is really coming into his own. In 2007 when I first wen't over there he was afraid to open the laptop. Now he gets the data for me, plugs in the cables, gets the laptop on th net and we discuss what he see's on the track and what I see in the data and then together we execute the plan. Thank you so much to Ebrahim Kanoo for giving me this opportunity."
The team campaign a Toyota Supra with a single Precision Pro Mod 90 turbocharger on top of a Titan Motorsports 3.0 Litre (183 Cubic Inch) Toyota Supra 6 cylinder with a Twins Turbo Motorsports Supra Dry Sump system controlled by a MoTeC Engine Management System running Injector Dynamics Injectors, VP Import Racing Fuel and wiring by GP Motorsports wiring.
a Qualifying video is available on YouTube of the 7.78 second pass here;
http://www.youtube.com/watch?v=IJhE1DEe1mg
Video of the Final Round and 7.67 pass is here;
http://www.youtube.com/watch?v=4eLjWfQze5g
###