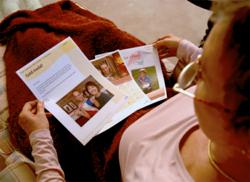 Shoreview, MN and Los Altos, CA (PRWEB) May 17, 2011
Minnesota-based Ecumen, the leading innovator in senior housing and services, and Presto Services, the leading provider of computerless email for seniors, today announced they have signed an agreement to make Presto Mail service available to Ecumen-at-home customers.
With senior housing communities and services in dozens of cities, Ecumen is promoting a world vision in which aging is viewed and understood in radically different ways. One of the ways in which Ecumen has distinguished itself in the senior living industry is through their innovative approach to using technology to help their senior customers age in place.
"We had been searching for the right solution to enable kids, grandkids, extended family and friends to be able to digitally connect to our customers who don't use computers," said Larry Jorgensen, Chief Information Officer of Ecumen. "Presto provides an elegant way to link our customers to their friends and family all over the world without anyone needing to learn anything new. People just send email with attached photos or documents. Our customers just receive beautifully formatted letters that are automatically printed out of a special HP printer connected to their phone line. The absence of complexity is what caused us to choose Presto."
"Since our launch in 2006, Presto has been purchased directly by families looking for a solution to bridge the digital divide with their parents," said Peter Radsliff, CEO of Presto Services, "Through this new relationship with Ecumen, Presto now has the opportunity to expand deployment of its Presto Mail service to people who might not otherwise have known it existed."
The Presto Mail service provides a customized email address for Ecumen customers and a managed "friends" list that eliminates spam or junk mail from non-approved senders. The friend's name and phone number are printed on the top of each message to facilitate return phone calls. Many other functions are provided including message scheduling, delivery confirmation, auto-delivery of Facebook photos, and online ink & paper level monitoring.
Jorgensen continued, "Besides providing more joy in our customer's lives through a closer, real-time connection to family, having a digital link can also connect them to important community services, local businesses, and even medical personnel and caregivers."
Ecumen will be offering Presto Mail to their customers for $14.99 a month plus a one-time charge of $99.99 for the Printing Mailbox made for Presto by HP.
About Ecumen
Ecumen (http://www.ecumen.org) is based in Shoreview, Minn., and is the most innovative leader of senior housing and services, empowering individuals to live richer and fuller lives. The name Ecumen comes from the word ecumenical, which in turn is derived from the Greek word for home: "Oikos." Ecumen's mission is to create home for older adults wherever they choose to live. Ecumen is affiliated with the Evangelical Lutheran Church in America (ELCA) and has 4,000 team members. Ecumen writes about news and ideas that are shaping the future of aging services and senior housing at its Changing Aging blog: http://www.changingagingblog.org.
About Presto
Presto Mail (http://www.presto.com) is a communications tool for family members who make decisions about the support and care of their aging parents and who need a simple, convenient, and cost-effective way to communicate with them. It consisting of a specially designed printer and online service that seamlessly bridges the technology gap and redefines the way families can share their lives, conversations, and information, while still allowing them to use the methods of communication they prefer. At Presto Services Inc. we use our technology skills to make it unnecessary for you to use yours.
###