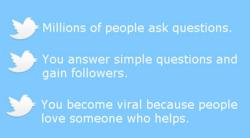 Go on twitQA to take part in the twitter community.
(PRWEB) May 19, 2011
twitQA – "Ask or Answer on twitter" was launched to enable twitter interaction and knowledge discovery. twitQA is a fun and knowledge oriented application for twitter.
With twitQA, twitter users can now help their followers with responding to their queries or questions and find people who have similar interests or ideas.
twitQA is a hybrid of a social network and Q&A platform so users can network to provide support and voice their opinion in the arena of 100 million strong twitters.
What makes twitQA powerful is the simple nature of the application with the power to reach out to people who can come together to collaborate and share ideas with people who understand and need the expertise.
People have already seen success using the network. Earlier, twitter users could not find the complete context of the dialogue or whether a particular tweet was part of conversation. With twitQA, the twitter users can do all this easily.
About twitQA
twitQA is a web 2.0 application which uses the twitter api to build a question and answer platform enabling twitter conversation. twitQA stands for free, fast and easy access to information.
Features of twitQA:

Answers are rated and each respond goes directly to the question poster.
Discovery of question for a brand or business is easy with "Question Spy".
twitQA establishes a connection when a question is asked or answer is posted.
Questions can be asked to gather feedback.
Questions can be posted to specific followers for particular specialization.
Questions can be sent directly to email.