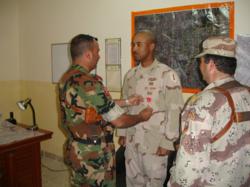 My sacrifice had to be made because of the opportunities given to me from the men and women who sacrificed their lives and died for our country. I had to do the same in their honor, to protect our nation and protect the unborn of this country.
New York City, NY (PRWEB) May 16, 2011
As Memorial Day approaches and we thank our Veterans for their service to our nation as well as appreciate the contributions that U.S. Asian Pacific Americans have made to our country for the month of May, Tommy Nero Sullivan of V.I.P. Promotions was privileged to interview Captain James Van Thach about the United States Army awarding him the Bronze Star for his service in Iraq as a Military Advisor.
A highly decorated Iraq War Veteran, Captain James Van Thach served twenty-four straight months in Iraq, despite being wounded twice during his first year, for which he was awarded the Purple Heart. Also, the government of Iraq awarded him the rank of Honorary Staff Brigadier General in the Iraqi Army.
Standing in Captain Thach's presence you notice instantly an aurora about this young man and admire the goals he set forth in his life through education in the United States and travel overseas in his fight in war torn Iraq.
Why would an educated Law School graduate of Touro Law Center turn down numerous private sector job offers with a very generous salary or a safer career path as an Attorney with the United States Army Judge Advocate General (JAG) and only to choose a dangerous job as an Infantry Officer in active combat as a Military Advisor in Iraq?
Captain James Van Thach answered in a commanding voice, "My sacrifice had to be made because of the opportunities given to me from the men and women who sacrificed their lives and died for our country. I had to do the same in their honor, to protect our nation and protect the unborn of this country so that they might live in a peaceful world."
Captain James Van Thach further stated, "As a Vietnamese-American, I personally feel in my heart and soul the sacrifices of life, along with the mental and physical scars suffered by both United States and South Vietnamese servicemembers who fought to defend South Vietnam against the Communist aggression of North Vietnam."
Additionally, Captain James Van Thach stated "I will never forget and will always honor the men and woman that served in our military to defend our nation and our allies around the world, that have fought with our great military against Terrorism, Communism, and Fascism.
In closing, Captain James Van Thach reflected on the recent news of the killing of Osama bin Laden by the United States military, "The American people and the world in general that are celebrating the death of Osama bin Laden, must remember the death of this one man will not end the war against the United States and other countries. When the Dictator of North Vietnam Ho Chi Minh passed away in 1969, it did not deter nor stop the North Vietnamese from continuing using the Viet Cong to terrorize the civilian population of South Vietnam, nor the North Vietnamese military from attacking and eventually taking over South Vietnam in 1975. Let history not repeat itself as this should be a warning to the United States and her allies, that they must continue to preserve and defeat al-Qaeda and the Taliban."
This has been an immense honor and privilege to have had the opportunity to interview an illustrious man that has sacrificed a lucrative law career and served with distinction and awarded the Bronze Star by the United States Army.
His Bronze Star Medal citation reads:
Captain James Van Thach, United States Army, distinguished himself by exceptionally meritorious service to the United States as Battalion Staff and Maneuver Advisor to 1st Battalion, 3rd Brigade, 6th Iraqi Division, at Forward Operating Base Constitution, Iraq, from 29th March 2006 to 17 March 2007 in support of Operation Iraqi Freedom.
Captain Thach provided outstanding professional leadership and effective guidance to the Company Commanders, Battalion Operations Officer, Battalion Executive Officer, Battalion Deputy Commander, and Battalion Commander of the 1st Battalion and 3rd Battalion, 3rd Iraqi Army Brigade, 6th Iraqi Army Division, as they conducted combat operations in sector. Selected by the United States Army to serve as a Battalion Staff and Maneuver Advisor as part of a ten-man Military Transition Team, he conducted operations and training for the Military Transition Team and advised, coached and trained the 1st and 3rd Battalion officers, NCOs', and soldiers in all combat operations. Captain Thach worked with senior United States Army and Iraqi Army officers on a daily basis to help fight the Global War on Terrorism in Iraq. His understanding and insight in military operations enabled the Iraqi Battalion S3s to execute current combat operations and plan future operations. He advised the Battalion S3s on numerous independent and joint operations to include raids, cordon and searches, patrols, TCPs, base defense, humanitarian assistance, and counter-mobility operations.
As the United States' Iraqi Assistance Group focus changed from operational training to sustaining the force, Captain Thach spearheaded the effort in 3rd Battalion to train the Headquarters Service Company on numerous collective and METL tasks including; leadership training, conducting command and control, troop leading procedures development and execution of training plans, unit maintenance, and supply support.
In addition to his role as advisor Captain Thach was an invaluable member of an Up-Armored High Mobility Multi-Purpose Vehicle Crew. He served as the vehicle driver on over 150 combat missions with over 5,000 combat miles traveled. His skills was essential as the Team traveled along dangerous routes during daylight hours and night while avoiding improvised explosive devices, small arms fire and RPG fire, snipers, and indirect fire. Combat missions included; cordon and search, raids, convoy security, TCP's, hostage rescue, and Humanitarian Assistance missions in the Abu Gihriab, Gazaliya, Khandari, Shula, and Bakarea, some of the most dangerous Districts of Baghdad and along some of the most heavily attacked routes in Baghdad.
Captain Thach was instrumental in advancing two Iraqi Army battalions capability to conduct combined combat operations with United States forces, conduct independent combat operations in the brigade's area of operation, and performed sustaining operations. His actions are in keeping with the finest traditions of military service and reflect distinct credit upon himself, this command and the United States Army.
# # #