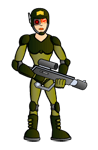 This is the largest word game on the internet. The money makes it powerful.
Houston, TX (PRWEB) May 17, 2011
The largest word game on the internet has just been launched. Players can represent their schools, state and even country in the contest to see who can earn the most money identifying typos they see online as they surf the web. http://www.typobounty.com
There are opportunities to win money with the TypoBounty.com word game all over the Internet. For Example: Using a popular search engine, we found the word "receive" was misspelled as "recieve" on 14,800,000 web pages. At the average payout of $2.00 per report, that's a potential $29,600,000 up for grabs and that is just one root word. Players can make some serious money playing this free online word game.
Most people know that internet based games are very fun ways to spend time. The TypoBounty.com word game takes it up a notch by making it a worldwide competition and providing the opportunity to win money.
This word game contest doesn't just leave any stone unturned. There are ways to compete with friends, and build teams as well.
The leaders of this free online word game are displayed on the main page of TypoBounty.com. This is indeed one of the most fun word games online because of the real extent of what the player has the ability to accomplish.
There aren't that many internet word games that allow you to consistently win money repeatedly and secure bragging rights for themselves, their school, state, and country. What a contest!
"We decided to put the word game on line for free because, we thought it would just be a lot more participation. And due to the sheer size of this word game we want everyone to have a shot at the money.
It's free to sign up. Join us and tell your friends.
###