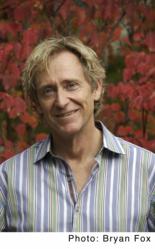 Public gardens are where ecology and landscape design are woven together seamlessly. You can learn how to make artful gardens that actually enrich the natural environment. --W. Gary Smith
Santa Fe, NM (PRWEB) May 16, 2011
The Santa Fe Botanical Garden moves toward breaking ground at Santa Fe's Museum Hill site with a garden that will usher in a new era of education for children and adults on the benefits of stewardship, conservation, ecology and local history and culture.
The designer of the new garden, landscape architect W. Gary Smith, will be visiting the site May 17, 2011 in order to address media on the plans. A ground breaking event will be held later this summer at the site and will feature the historic Kearny's Gap Bridge donated by the Bibb family of Las Vegas, NM.
With more than 25 years in public garden design and master planning, Smith has distinguished himself as a landscape architect who celebrates plants and the connections they offer between people and nature. Working almost exclusively in botanic gardens and arboreta, he strives to find ecologically sustainable ways of making gardens. His most recent projects include master planning and garden design for the Southern Highlands Reserve; the Texas Arboretum at the Lady Bird Johnson Wildflower Center; and the conservatory gardens at the John A. Sibley Horticultural Center at Callaway Gardens in Georgia.
"Public gardens are where ecology and landscape design are woven together seamlessly. You can learn how to make artful gardens that actually enrich the natural environment – and you're having such a good time that education and entertainment are one and the same," says Smith. "Plus, there's no better place for a botanical garden than on Museum Hill, one of Santa Fe's centers for arts and culture."
The American Horticultural Society (AHS) recently announced Smith as the 2011 recipient of the Society's Landscape Design Award.
His book "From Art to Landscape, Unleashing Creativity in Garden Design" was published by Timber Press in 2010.
Covering more than twelve acres, the Museum Hill garden will contain four separate but integrated garden experiences: The Orchard Gardens, Naturalistic Gardens, The Courtyard Gardens and a trail system called the Arroyo Trails. The Botanical Garden at Museum Hill will integrate the natural and the man-made, a location of natural beauty and environmental interest transformed by excellent garden design, horticultural practice and architecture.
For more information about visiting or donating to the Santa Fe Botanical Garden at Museum Hill site or its other locations, the Ortiz Mountain Education Preserve and the Leonora Curtin Wetland Preserve, please visit the website or call 505 471 9103.
For press inquiries, please contact Jennifer Hobson at JLH Media:
Jennifer(at)jlhmedia(dot)com
505 603 8643
###