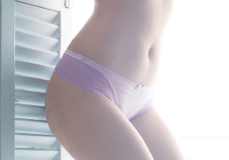 You have no idea how hard it is to find panties I like in plus sizes. It feels so good to have pretty panties in my drawer. I look forward to my subscription and bought one for my best friend too!
Vancouver, BC (PRWEB) May 24, 2011
It's true that lingerie is supposed to cater to all shapes and sizes, but it rarely does so. For curvaceous ladies it's usually a choice between generic black and white, or else it's bland n' basic styles. PantyByPost.com has now changed all that. After searching for so long, PantybyPost.com has now finally found the best line for plus size ladies and curated an incredible collection in a variety of colours, with lace and in hipster, bikini or thong.
 
PantyByPost.com customers are woman of all shapes and sizes, from size XS to size 4X. PBP's plus line is nothing like ladies are used to and everything to desire. We carefully source plus panties from a European company, with styles that are unique, sexy and of excellent quality. Every month look forward to a package in the mail guaranteed to put out a smile on all faces (it goes over well with the hubby too, wink).
Guys can't go wrong with this monthly subscription. Send a thoughtful gift, complete with a romantic note and order it in a matter of minutes, online, without ever having to enter a mall or store! There is no doubt, she will be delightfully surprised when the postman delivers a beautiful package, with a sexy pair of panties, from her man. Then think of the fun when she calls to come over and model them? Experience this pretty panty together, every month!
It's simple and convenient to use, go to pantybypost.com, select the duration of the package (1X, 2 at once, 3X, 6X or all year long, 12X), the style (thong, bikini, hipster or mix) and size (we carry extra small to plus sizes). We take care of the rest! Or, call us on our toll free line for personalized service. We also offer gift certificates, which is always the right choice.
###