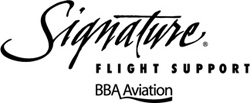 (PRWEB) May 17, 2011
Signature Flight Support Corporation sent its first tweet today at EBACE 2011. The inaugural post encourages customers and industry stakeholders to follow @SignatureFBO on Twitter. Plans call for this micro-blogging service to become a key method for Signature customers to receive up-to-the-minute information on the FBO's 100-plus global locations.
"We will focus on communicating operational advisories such as those encountered during the 2010 Icelandic volcano disruptions and the most recent wave of tornadoes to impact Alabama and Tennessee," said Patrick Sniffen, Vice President Marketing for Signature Flight Support. "We will also use Twitter to announce special promotions throughout our network."
At NBAA 2010, Signature launched its iPhone® application: iFBO™. "We've seen usage increase steadily with the growth in popularity of handheld applications and customers' requests for real-time data," said Sniffen. "We anticipate similar growth in our Twitter followers."
While Twitter has become one of the largest and most widely used social media tools, the aviation industry has only recently begun to tap into Twitter's ability to provide real-time communications between companies and stakeholders. Signature is one of the earlier adapters. It will tweet throughout EBACE 2011. Attendees are encouraged to stop by BBA Aviation's stand #7030 in Hall 7 to experience the interactive digital displays and for drinks and canapés on Tuesday and Wednesday at 1630.
Signature Flight Support Corporation, a BBA Aviation plc company, is the world's largest fixed-base operation (FBO) and distribution network for business aviation services. Signature services include fueling, hangar and office rentals, ground handling, maintenance and a wide range of crew and passenger amenities at strategic domestic and international locations. Headquartered in Orlando, Florida, Signature currently operates at more than 100 locations in the United States, Europe, South America, Africa and Asia. For more information, please visit: http://www.signatureflight.com.
BBA Aviation plc is a leading global aviation support and aftermarket services provider with market leading businesses and attractive growth opportunities. BBA Aviation's Flight Support businesses (Signature Flight Support®, ASIG® and Signature TECHNICAir™) are focused on refueling, ground handling and/or maintenance of business and commercial aviation aircraft. Its Aftermarket Services and Systems businesses (Dallas Airmotive, Premier Turbines, H&S Aviation, International Turbine Service®, Barrett Turbine Engine Company, International Governor Services, Ontic®, and APPH®) are focused on the repair and overhaul of jet engines and the design, manufacture and services of aerospace sub-systems and components. For more information, please visit http://www.bbaaviation.com.
CONTACT:
Patrick D. Sniffen, Vice President Marketing, +1 407 206 5212 or patrick(dot)sniffen(at)signatureflight(dot)com
###