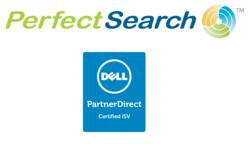 Using Perfect Search's Hyperspace Indexing and Search Technology…customers can easily store and manage petabytes of data and can search and retrieve relevant data with game-changing speed and efficiency — Brandon Canaday, Dell Storage Solutions
Provo, UT (PRWEB) May 18, 2011
Perfect Search™ announced today its partnership with Dell™ as a Dell DX Object Storage Platform certified partner. This new relationship enables Dell to offer its DX Object Storage customers the ability to find stored data with virtually unmatched speed and precision, pairing Perfect Search's ground-breaking search technology with the scalability of the Dell DX Object Storage Platform.
"Perfect Search enables clients to index and find what they're looking for in their stored files and data housed on the Dell DX Object Storage Platform—quickly, cost-effectively and with far more scalability than practically any other search technology solution," says Perfect Search CEO Tim Stay. "Perfect Search is the answer to the question all enterprises are asking themselves: How do I find the information I need when I need it?"
Pairing the Perfect Search Appliance (PSA) with the Dell DX Object Platform offers the ability to look through the entire DX Object Storage Platform and can provide rapid access to files or objects within the object store. Perfect Search indexes the metadata and content of each object as it is stored, keeps track of the locators for each piece of data, and, when a search is complete, provides precise hits as to where the query was found, enabling immediate click through to the document, image, backup or file. The PSA gives enterprises a comprehensive view of their data stored on the DX Object Storage Platform, enabling relevant retrieval of contents in seconds, even over the largest object stores.
"Data growth is exponential and our customers are looking for innovative solutions that help them to more efficiently store, manage and mine their digital content," said Brandon Canaday, Worldwide Marketing Director, Dell Storage Solutions. "Using Perfect Search's Hyperspace Indexing and Search Technology, and its native integration with the Dell DX Object Storage Platform, customers can easily store and manage petabytes of data and can search and retrieve relevant data with game-changing speed and efficiency."
As a foundational storage tier, the Dell DX Object Storage Platform provides access to unstructured data for multiple applications, helping secure data in one place for risk and cost management and enhancing discovery and decision-making capabilities. DX Object Storage is ideal for large-scale digital content and long-term data storage, empowering organizations to add capacity without the setup and management complexity and the costs of performance storage.
Dell and Perfect Search recognize that enterprise clients are clamoring for solutions related to electronic information storage. The pairing of the Perfect Search Appliance with Dell's DX Object Storage Platform provides customers with a comprehensive data management index and search solution. All enterprises can benefit from relevant, fast retrieval of stored information resulting in heightened productivity and potential reduced costs, from eDiscovery and regulatory compliance to dramatic search-related hardware reduction.
About Perfect Search
Perfect Search Corporation's patented technology delivers its customers the industry's fastest, most precise, most scalable, most cost-effective enterprise search technology. Offering both search engine SDK for OEM and search appliance solutions, Perfect Search enables enterprises to find the information they need when they need it, with speed and bulls-eye relevance. Learn more at http://www.perfectsearchcorp.com.
###