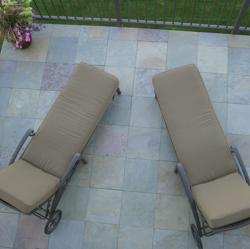 A light-weight stone terrace over traditional wood joist framing offers better relaxation.
(PRWEB) May 16, 2011
In an effort to again help the building community that has been struggling under a three year lull, DexSystems®, a company that provides a unique Outdoor Floor System™, is extending a Special Summer Price Lock. This is an opportunity for contractors, DIY customers, builders and other building project oriented individuals to book their order and not be concerned with potential summer price adjustments.
This offer applies to DexSystems® two primary products–GratedeX® and PierdeX®. These Outdoor Floor System™ products are designed as an underlayment system to support thin gauged stone, tile, pavers or other surface finishes in traditional decking or roof top terrace applications as an alternate to wood, composites or traditional mud set stone and tile. DexSystems® products are light-weight and achieve greater durability and creative flexibility in both residential and commercial outdoor room, outdoor living and outdoor decking applications.
The Summer Price Lock came following a roll out by DexSystems® of an anticipated 5% product price increase on June 15. In addition, there have been discussions surrounding fluctuating freight and fuel charges as the economy absorbs market changes. In an effort to extend a helping hand to the many individuals in the building community that have been planning ahead for 2011 DexSystems® Outdoor Floor System™ installations, DexSystems® is extending a 60 day Price Lock.
This is a no cost offer. A simple deposit is made against the total order price, including shipping and handling by June 15. The buyer then has until August 15 to take delivery on the order. The balance of the order is not processed until 10 days prior to the delivery date. This guarantees current 2011 product pricing and shipping regardless of market changes.
DexSystems® hopes this will help support both those laboring in the trades and those who benefit from the value of an installed Outdoor Floor System™.
###