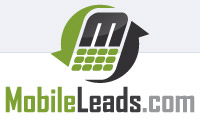 Bringing Shane aboard is a big, big win for this growing team.
-MobileLeads CEO,
JT Benton
Tempe, Arizona (PRWEB) May 17, 2011
MobileLeads.com, a marketing communications company, announced Monday that Shane Graper has joined the firm as Director, Affiliate Marketing. Mr. Graper will be directly responsible for managing the company's online marketing initiatives. Graper's tenure as an Internet Marketer is significant: he has served brands in a multitude of key vertical markets. He is very well versed in SEO, Paid Search, Email Marketing and all things Mobile Marketing.
"Bringing Shane aboard is a big, big win for this growing team," MobileLeads CEO, JT Benton, said. "His background in direct response marketing is very impressive. He brings immediate value." Benton added that establishing and maintaining strong ties with mobile publishers will be chief among Graper's new responsibilities. Graper agreed: "Performance Marketing is all about quality relationships and quality traffic. Forming partnerships with publishers you can trust to generate that quality is paramount."
Benton added that the young company aims at expanding, further: "We'll hire a Director for our Display Advertising division in the third quarter."
MobileLeads is headquartered in Tempe, Arizona. The company generates leads and customer acquisitions for reputable, recognized brands in the United States and abroad. For more information on the company and its leadership, visit http://www.mobileleads.com.
###