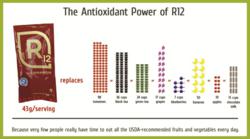 Clinical studies support cinnamon's ability to control a variety of factors common to major diseases, which is why we decided to incorporate it as a key ingredient to promote muscle recovery and well-being." – Jacques Jonassaint, CEO of Bonavitas
Provo, UT (PRWEB) May 16, 2011
Bonavitas announced today that its soon-to-launch natural recovery drink, R12, features a full teaspoon of cinnamon in every serving, which has been endorsed as being beneficial to overall health with daily consumption.
The National Institutes of Health (NIH) has confirmed that consuming as little as one-half teaspoon daily of cinnamon can reduce risk factors associated with diseases that result from elevated glucose and fat levels in the bloodstream. The government-affiliated NIH is one of the world's most respected medical research centers.
R12 incorporates cinnamon as one of its main superfoods, to support recovery and better health in general. Health benefits of cinnamon include:

May aid in blood circulation and improve cell health and recovery
Believed to promote healthy fat and blood sugar levels in the bloodstream
May support good bacteria in the mouth, and sinus and respiratory function
Believed to boost brain activity, improve focus and concentration
"Cinnamon has been used for centuries to promote good health in cultures worldwide," said Jacques Jonassaint, CEO of Bonavitas. "Clinical studies support cinnamon's ability to control a variety of factors common to major diseases, which is why we decided to incorporate it as a key ingredient to promote muscle recovery and well-being."
Muscle and fitness buffs know that muscle recovery is vital to building strong muscles to support a healthy body. However, this applies to people of all ages and degrees of fitness—not just those involved in bodybuilding.
Besides being good for you, the cinnamon gives R12 a very pleasant flavor, without the aftertaste often found in recovery drinks with artificial ingredients and flavors.
Find out how rewarding natural energy and recovery drinks can be. The first 10,000 Bonavitas online community members will receive extra rewards points. Flavorful and effective, R12 is not just another sports drink.
Aout Bonavitas
Headquartered in Provo, Utah, Bonavitas is a wellness company dedicated to the development and distribution of nutritional products that use science and natural ingredients for enhanced recovery, energy and overall fitness. Bonavitas chooses the nutrients and antioxidants that go into each product, based on scientifically supported benefits. Bonavitas offers a new approach to wellness – for everyone from bodybuilding professionals to moms on the go, fitness experts to weekend warriors and anyone with a pulse. http://www.bonavitas.com
###