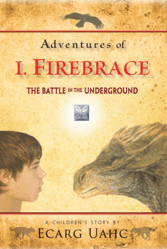 North York, Ontario (PRWEB) May 17, 2011
Many young people feel that they are misunderstood. Every day they suffer the slings and arrows of a world that they just don't seem to fit into. That is precisely how Spryce Winthrow felt, that is, until his unbeleavabel adventure began. Adventures of I. Firebrace: The Battle in the Underground (published by iUniverse) by Ecarg Uahc is an epic adventure about a young boy who finds himself in an amazing world beyond his wildest imaginings.
Spryce Winthrow is not an ordinary 12 year old boy. In fact, he's so out of the ordinary that no one really knows what to do with him. That is how he ended up in the School for the Unsortable Sorts. It is a school where society warehouses those children that don't seem to fit in anywhere else. As Adventures of I. Firebrace opens, readers meet young Spryce as he is being threatened by the band of bullies who have made it their goal to plague Spryce at every opportunity. Seeking refuge from his tormentors, Spryce flees the school only to find himself in the most extraordinary place.
Spryce loses time and, for all he knows, consciousness. When he comes to, he finds himself looking dead into the eyes of the largest creature he has ever seen. Reminiscent of a wolf, the creature introduces himself as Ibrham Firebrace, leader of the hounds. After a brief parlay, the hounds enlist Spryce's help in their war against the Wretchens, an enemy that the hounds have been battling for centuries.
As Spryce begins to unravel the complicated web of events that are transpiring, he makes some unbelievable discoveries. The first is that the hounds know Spryce's father, the soldier Lieutenant Marcus Winthrow. The second is that Spryce is not the first person from his world to arrive in the strange place he now finds himself in. Finally, he discovers that in this amazing world, one is limited only by their own self-doubt.
Adventures of I. Firebrace is the kind of adventure that will inspire people, young and old, to embrace life and look at the world around them in a whole new way.
About the Author
Ecarg Uahc has a B.A. in international relations and an L.L.B. from the University of Windsor. He currently works as an investigator in Toronto. Uahc has also traveled extensively around the world and has taken part in a number of international internships in developing countries. It is his travels that inspired Uahc to write Adventures of I. Firebrace. He is currently working on the second installment in the series.
iUniverse, an Author Solutions, Inc. self-publishing provider, is the leading book marketing, editorial services, and supported self-publishing company. For more information, visit http://www.iuniverse.com.
###