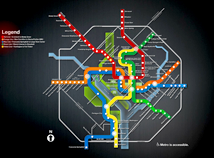 ...download free screensavers featuring metro maps .... which will help you.. to see how to get from here to there. No need in a paper map.
London, UK (PRWEB) May 20, 2011
Holiday season is open and many people plan how to spend a vacation and where to go. NewFreeScreensavers.com, a website dedicated to safe and free screensavers, has created a few screensavers featuring metro and subway maps of London, Los Angeles, Washington, Moscow, Rome and Paris.
Today most of us prefer to take their own laptops, notebooks, netbooks when travelling. It helps to find necessary and useful information about the places you are travelling and much more. Newfreescreensavers.com offers to download free screensavers featuring metro maps of central part of London, Moscow, Paris, Rome and Los Angeles, which will help to plan a city trip in advance or just to look at a metro map when it is necessary and see how to get from here to there. No need in a paper map.
Free maps screensavers are animated, which make them more attractive to run, when a pc is idle. Some screensavers feature only central parts of world capitals. For example, if you download nfs nfsLondonMetroMap2, a free animated screensaver, you will see the central lines of London undeground map with stations names. Nevertheless nfsLondonMetroMap free animated screensaver will only decorate you monitor, as it does not feature stations. nfsWashingtonMetroMap free screensaver featuring a map of Washington metro, with stations, also includes audio background, which can be muted. To learn How to mute screen saver, visit our FAQ page.
All free screensavers at NewFreeScreensavers.com are safe to install and run and will work on any version of Windows from XP to Windows 7. The downloads are typically small, and taking only moments to install, you can start using them right away with minimal hassle.
COMPANY:
NewFreeScreensavers.com offers a collection of completely free screensavers and features a blog with tips and tricks section about screensavers and screensaver reviews. To download a safe free screensaver, and to learn about the best screensaver available, visit: http://www.newfreescreensavers.com/the-best-free-screensaver.html
Contact:
Claire Webb
is(at)newfreescreensavers(dot)com
phone +1 347 767 5896
NewFreeScreensavers.com
###