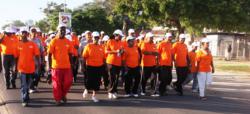 When I first mooted the idea of the charity walk, the IRs in Dar Es Salaam were inspired to take up the challenge and raise as much as we could together with RYTHM Foundation. "I am glad we managed to exceed all expectations
Dar es Salaam, Tanzania (PRWEB) May 17, 2011
The fact that several of her relatives had died of cancer left an indelible mark on Mama Asha Bilali, the wife of the Vice-President of the Republic of Tanzania, Dr Mohammed Bilali.
Heartsick at losing so many who were dear to her, Mama Asha said she immediately agreed to officiate at the RYTHM Foundation Charity Walk in aid of the Ocean Road Cancer Institute (ORCI) organised by QNet last Saturday, 14 May.
"I am saddened that not just my relatives but many of my countrymen have fallen victim to cancer. And that's why I am here to support this cause," she said in an exclusive interview with QNet's aspIRe Magazine.
Mama Asha thanked QNet for organising the charity walk which raised some USD35,000 from its Independent Representatives (IRs) and 13 organisations that came forward to support it.
The organizations were the National Construction Council, Parastatal Pension Fund, National Social Security Fund, Wartisila, American Microfinance, New Millennium Group, Tija Women Association, CRB Africa Legal, CXC Tours Company, Tanzania Electric Supply Company, Jeshila Wananchi Tanzania, Law Associate Advocates and the Ngorongoro Conservation Area Authority.
Mama Ashaalso handed over to ORCI CEO, Dr Diwani Msemo, a55kva generator costing USD28,000 that was purchased from the proceeds of the event. The remaining money will be used to buy much needed medicine for poor patients at the hospital.
"This is a wonderful cause and very much needed. We have to continuously raise funds for ORCI, and I hope RYTHM Foundation and QNet will not stop its wonderful work with just this one event.
"I am sure that once the report of this charity walk appears in newspapers and on television, QNet will endear itself to all Tanzanians, and especially those who have had a brush with cancer," she said.
On the dire need for the generator, Dr Msemo said power interruptions of up to six hours at a time, three times a week, had put a strain on the ORCI and the vital services it provides.
"Some of our equipment, such as the Cobalt 60 machine which is used for radiation treatment, and the two high dose rate brachytherapy machines cannot function properly and may even become faulty due to the frequent power interruptions.
"We treat an average of 300 outpatients of all ages each day. And although we only have 120 beds, about 200 patients are warded here. Hence, some beds are shared by two patients," he said.
Dr Msemo said cancer was on the rise in Tanzania due to smoking, the onset of viral diseases such as AIDS that can trigger the disease, as well as changing lifestyles caused by increasing affluence among some sections of society.
QNet agent in Tanzania, Gilda Kaindoah, said preparations for the charity walk took two months to put together.
"When I first mooted the idea of the charity walk, the IRs in Dar Es Salaam were inspired to take up the challenge and raise as much as we could together with RYTHM Foundation. I am glad we managed to exceed all expectations," she said.
Earlier, some 700 people, including children of IRs took part in the 5km charity walk which kicked-off from the ORCI grounds on Ocean Road, through Ali Hassan Muiyi Road, Ohio Road, Sokoine Drive, and back to Ocean Road.
It was led by Mama Asha and other VIPs which included the Temeke District Commissioner, Chiku Galawa, the Director of Hospital Services at the Ministry of Health, Dr Joseph Mbatia, and about 30 wives of Government Ministers and high ranking officials.
During the walk, enthusiastic members of the public who were drawn by the accompanying musical band also joined in to lend support to the cause. Towards the last 1km, the participants broke out into Swahili songs that touched on unity and togetherness.
ABOUT RYTHM FOUNDATION
Derived from the acronym Raise Yourself To Help Mankind, RYTHM Foundation was created to emulate the fundamentals on which the QI Group has been built since 1998. RYTHM is the benchmark of all operations within the Group and the Foundation is representative of this spirit and puts into action the primary mission of the QI Group of Companies.
The mission of RYTHM Foundation is to build opportunities and care for those in need. It aims to create decent living conditions and to protect the environment to facilitate sustainability. It also strives to ensure our children - the symbol of our future - are safe and supported, now and tomorrow. RYTHM Foundation is the corporate heartbeat of the QI Group, keeping alive the employees' social conscience and serving as a constant reminder of the Company's core purpose.
To learn more about Rythm Foundation, visit http://www.rythmfoundation.org
About QNet
Since 1998, QNet has been one of the foremost pioneers of the direct selling profession throughout Asia, distributing an innovative range of lifestyle products to millions of customers around the world through its cutting-edge e-commerce platform. In its second decade, the company is fast emerging as a global direct selling brand with major operations in Hong Kong, Malaysia and Singapore, and a worldwide presence in almost 30 different countries through representative offices and agency partnerships.
In addition to its strong portfolio of exclusive wellness brands – including nutrition, energy, personal care, home care and other lifestyle product categories – QNet also offers a proven business opportunity to promote the company's products, representing the potential for an entrepreneurial business venture through network marketing.
QNet, the flagship of the QI Group of Companies, is driven by the mission of 'Raise Yourself To Help Mankind' (RYTHM). This philosophy is embodied in many widespread educational, environmental, cultural, and disaster relief philanthropic initiatives, which are enabled by our corporate social responsibility arm, the RYTHM Foundation.
For more information, please visit http://www.qnet.net.
###