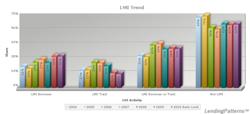 Get a sneak peek at a representative sample of this year's HMDA data before it is released in September 2011.
Washingon, DC (PRWEB) May 31, 2011
Every year nearly all mortgage lenders in the country are required to file their Home Mortgage Disclosure Act (HMDA) data with their respective reporting agency by March 1. Although these data are supposed to be "publicly" available the agency responsible for releasing the data does not usually do so until the following September. The release of the data is delayed to process resubmissions, edit checks and data verifications. For many large lenders, agency regulators and researchers these data come later than desirable for strategic planning and market sizing projections. CLC Compliance Technologies, Inc. (ComplianceTech) offers a solution to this problem with its LendingPatterns Plus EarlyLook web-based solution. The application is used by some of the largest banks, government agencies as well as housing organizations, fair housing enforcement entities, community development organizations and researchers.
LendingPatterns Plus EarlyLook for 2010 is also the only tool capable of querying through millions of loan applications made since 2004 and retrieving answers about racial/ethnic/gender lending activities in 2-3 minutes or less.
Other unparalleled features of LendingPatterns not offered by others include:
-Ability to do multi-year online HMDA analysis from any place on the planet with an Internet connection.
-A 15+ page Introductory Fair Lending Analysis report that gives an overview relative to agency peers in the same location.
-The ability to analyze low/moderate income lending and view lending activity by CRA assessment area.
-Pricing Analysis: The ability to analyze disparities in the magnitude or incidence of subprime lending by race, geography and income (raw data does not have incidence)
-Benchmark comparisons: Ability to quickly see whether an institution stands out in the crowd, positively or negatively.
-Geographic drilldown: The ability to do both national, metro, county, CRA assessment area and census tract level reports.
-Geographic Information Systems: The ability to generate detailed and informative maps in minutes that output to popular web-based mapping programs with thematic layers based on tract income, tract percent minority, vacancy and estimated foreclosure rates.
-Data management capabilities: The ability to merge the loan application registers of different companies to see how the combined entities could perform or impact communities.
-Create custom peer groups: The ability to search for lender by using a profile of lender characteristics rather than by name.
-Uncover hidden relationships: The ability to identify the reporting affiliates of parent company lenders.
"We hope that, by providing this preview of the 2010 HMDA data in an easily accessible tool, it can facilitate a more timely analysis of mortgage industry activity by lenders, mortgage lending policy analysts, researchers, fair lending advocates, and others" says Michael Taliefero, Managing Director of ComplianceTech.
ComplianceTech compiles this data annually using a methodology that produces a sample whose composition (with regards to borrower income, tract demographics, race, gender, pricing characteristics etc.) closely matches that of the entire data set that will be released by the FFIEC. For example, the 2009 EarlyLook data showed 15.9% of applications going to minorities, whereas the subsequently released 2009 industry data showed 16.5% going to minorities. The 2009 EarlyLook data showed 15.5% of applications going to Low or Moderate income borrowers, while the industry data showed 15.6% going to Low or Moderate income borrowers. The 2009 EarlyLook data showed 9.4% of applications going to Low or Moderate income census tracts, while the industry data showed 9.2% going to Low or Moderate income census tracts.
LendingPatterns Plus EarlyLook data, although based on a sample of lenders that volunteer their data to ComplianceTech, provides a much needed preview of mortgage lending intelligence regarding trends and patterns expected to be seen in the full HMDA data release.
ComplianceTech, based in Arlington, VA provides specialized lending intelligence services and innovative software solutions to lending institutions, community organizations and government agencies. The company's software products include LendingPatterns™, Shamus®: The Fair Lending Risk Manager, the Racestimator™, The Premium Pricing Analyzer, and LMI and Minority Zip Code Opportunity Maps™.
###