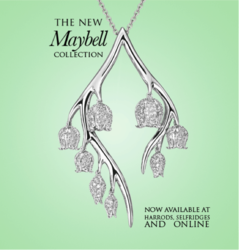 London (PRWEB UK) 17 May 2011
On the 16th and 17th March, renowned jewellery house Shaun Leane launched three new collections due for release in summer 2011: two designer silver jewellery collections for men and women and one diamond fine women's collection.
Captivated by the brief and delicate beauty of the Maybell, Shaun Leane introduces a new diamond jewellery collection that celebrates the purity and elegance of this fleeting woodland flower. Inspired by the momentary perfection of nature, the collection is crafted in 18ct White Gold with White Diamonds and echoes the simplicity of line and fluid curves that have become the house's signature.
The Maybells statement of new life, hope and returning happiness was loved by celebrated journalist James Sherwood and Vogue contributor Plum Sykes, who both attended the preview evening.
Also shown on the evening was the two-part Bound Collection, silver jewellery inspired by the talismanic body adornments of African tribes. Amongst other reputable retailers eager to launch the new silver collections in-store are Charles Fish, Michael Matthews, Justice and Steffans of Northampton.
Also in attendance were Willie Hamilton and Sarah Carpin from the CMJ; with Samantha Conti from W Magazine; and Richard Cook from Wallpaper Magazine.
The Maybell Collection is currently available exclusively to Harrods, whilst the Silver Collections will become available in Harrods and Selfridges from mid-July.
###