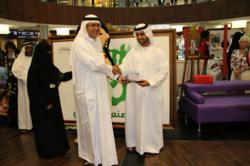 I am very proud of them, and this exhibition helps raise their confidence and gives them an opportunity to showcase their skills to a larger audience.
Dubai (PRWEB) May 17, 2011
The 3rd Handicapped Charitable Exhibition sponsored by QNet opened at the Dubai Mall last Thursday, 12 May 2011, to a huge turnout of hundreds of people who thronged the six booths over its three-day duration, to make purchases in support of the disabled.
Officially opened by prominent Dubai businessman, Sheikh Joma bin Maktoum Al-Maktoum, the exhibition for the annual event has been organised for the past three years by Dubai Media Incorporated (DMI), the Government body which runs all the major newspapers and television stations here.
Maryam Almur Mohd bin Huraiz, the Corporate Social Responsibility (CSR) Section Head for DMI, said the unique thing about this exhibition is that most of the products at the booths were made by the disabled themselves.
"All proceeds from sales at the exhibition will be donated to the six participating organisations that serve the needs of the physically and mentally disabled by training them in such skills as handicraft making, wood carving, pottery and others," she added.
The organizations were the Rashid Pediatric Therapy Centre, Dubai Club for Special Sports, Shaika Maitha Bint Rashid Maktoum Centre for Special Needs, Al Noor Training Centre for Children with Special Needs, Senses, and the Ministry of Social Affairs. DMI and QNet also had a booth each.
Maryam also expressed her thanks to QNet for coming forward and being the main sponsor for the exhibition and said, "with QNet's help, we hope to make it even bigger next year and draw more exhibitors".
Eman Ahogarati from Senses, which sells handmade arts and crafts, said the exhibition helped showcase what the disabled could do if given proper training. "It is just astounding when one realises that they are indeed capable of expert handiwork," she said.
Ruth Ryan, the art teacher at the Rashid Paediatric Therapy Centre said the paintings displayed and the wood carvings were all done by her disabled students.
"I am very proud of them, and this exhibition helps raise their confidence and gives them an opportunity to showcase their skills to a larger audience," she said.
General Manager for UAE and Business Development Manager for Middle East & North Africa, Khaled Diab said the company's sponsorship of this exhibition expresses its deep commitment to CSR. "We are carrying out numerous CSR projects around the world through our philanthropic arms, RYTHM Foundation and QNet Pays forward.
"By sponsoring this exhibition, we are making a commitment to executing more CSR work in the UAE to thank our loyal customers here for their support over the years," he said.
V Council member, Waafa Eltayeb Salih said she was very proud of QNet's involvement in the exhibition.
"I am thrilled that as the main sponsor, QNet has contributed to making this exhibition the success that it is," she said, adding that her booth received scores of enquiries over its products which included Physio Radiance, the Adiva Divine Collection and Veloci-Ti, amongst others.
Earlier, QNet sponsor in the United Arab Emirates, Tariq Abdul Hafeedh Al-Yousefi accompanied Sheikh Joma as he visited each booth at the exhibition. At the QNet booth, Sheikh Joma was given a briefing on the product lines and the company.
Tariq also received a memento on behalf of QNet from Sheikh Joma, for being the main sponsor at the exhibition.
About QNet
Since 1998, QNet has been one of the foremost pioneers of the direct selling profession throughout Asia, distributing an innovative range of lifestyle products to millions of customers around the world through its cutting-edge e-commerce platform. In its second decade, the company is fast emerging as a global direct selling brand with major operations in Hong Kong, Malaysia and Singapore, and a worldwide presence in almost 30 different countries through representative offices and agency partnerships.
In addition to its strong portfolio of exclusive wellness brands – including nutrition, energy, personal care, home care and other lifestyle product categories – QNet also offers a proven business opportunity to promote the company's products, representing the potential for an entrepreneurial business venture through network marketing.
QNet, the flagship of the QI Group of Companies, is driven by the mission of 'Raise Yourself To Help Mankind' (RYTHM). This philosophy is embodied in many widespread educational, environmental, cultural, and disaster relief philanthropic initiatives, which are enabled by our corporate social responsibility arm, the RYTHM Foundation.
For more information, please visit http://www.qnet.net
###