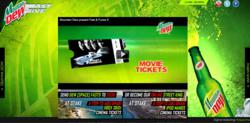 Lahore, Pakistan (PRWEB) May 17, 2011
Mountain Dew has always been the great tasting beverage which gets the adrenaline pumping like no other beverage. The brand has always taken initiatives for its fans by providing platforms that incorporate the feeling of adventure and thrill that they have within themselves. From challenging rock climbing competitions to tantalizing reality shows like living on the edge, Mountain Dew has lived up to its reputation of being an exciting youth brand. Now Mountain Dew is offering the most awaited action flick of the year, Fast 5, has come to Pakistan and Dew is giving enthusiasts the opportunity to experience the thrill like never before.
Text dew fast 5 to 2030 and win tickets to Abu Dhabi, Xbox's and movie tickets.
Mountain Dew also brings an opportunity to be a part of the Fast 5 excitement by engaging in an online extravaganza, the most wanted street racer contest. Log on to http://www.dew.com.pk/fast5, create a street racer profile complete with a mug shot and compete with other Mountain Dew street racers by attempting trivia quizzes, winning twitter races and submitting creative artwork based on the Fast and the Furious series. Accumulate points to rise up the ranks and become the 'most wanted' street racer. In the process win daily cinema tickets, weekly Xbox gaming consoles or a trip for two to Abu Dhabi.
So get ready, fasten seat belts; it is going to be fast and furious. It's time to do the Dew.
###