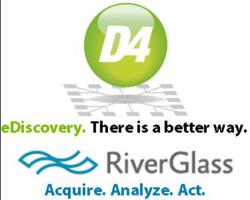 D4 will be hosting, reselling and installing the RiverGlass solutions across the country.
Rochester, NY (PRWEB) May 16, 2011
D4, LLC, a national leader in eDiscovery and Digital Forensic solutions, is once again sponsoring CEIC (Computer and Enterprise Investigations Conference), the premiere digital forensics, eDiscovery and computer security conference.
This year, D4 will be joined by their new partner, RiverGlass. D4 will be hosting, reselling and installing the RiverGlass solutions across the country. "RiverGlass provides a cost effective means to take Electronically Stored Information (ESI) that is collected with forensic tools and make it immediately available to the case team," said John Clingerman, Vice President of Forensic Services for D4. "The case team can gain insight as to the contents of the material early in the lifecycle through RiverGlass analytics, while preserving the collected data in a fully defensible manner without having to spend the money to process the data. That saves our customers time, money and strengthens the defensibility of ESI data management," Clingerman added.
RiverGlass can directly access records stored in forensic container files. For example, a custodian's email stored in PSTs (Personal Storage Table) can be collected using forensic software such as Guidance Encase or AccessData FTK. These container files are preserved in such a way the contents cannot be altered. RiverGlass technology can directly access, index and select specific email in the PSTs within the forensic container file and export it in a format that can be directly imported into the review platform, such as Relativity by kCura.
About D4, LLC
D4, LLC is national leader in litigation support and e-Discovery services to law firms and corporate law departments. D4 covers the spectrum of the Electronic Discovery Reference Model (EDRM), from identification and preservation of data through forensic and targeted onsite data collection; from data analytics and defensible search methodology through hosted review and production. D4 assists attorneys in litigation response planning, strategies for negotiation of scope and meet-and-confer, computer forensics, expert testimony and cost reduction practices in litigation support projects. Founded in 1997 and through its combination and rebranding with Doculegal, D4 has grown to a national presence. With nearly 100 staff, D4 offers full-service locations in Rochester, Buffalo, Tampa, Lincoln, Omaha, New York City, Grand Rapids and San Jose. D4 fields consultants and project managers from New York, Colorado, Rhode Island, Michigan, San Francisco, San Diego and Washington DC. State-of-the-art data center operations in Rochester are complemented by electronic discovery and litigation support paper document services throughout the United States. In 2010, D4 was recognized in the "Top Five" of the "Rochester Top 100", honoring the fastest growing companies in Western New York. For more information contact D4 at marketing(at)d4discovery(dot)com or visit http://www.d4discovery.com.
About RiverGlass
RiverGlass, Inc. is a leading provider of advanced information collection and analysis solutions. The company was formed in 2003 and leverages eight years and $20mm of R&D efforts from the former Mosaic development teams at the University of Illinois at Urbana-Champaign (UIUC). RiverGlass provides solutions to government agencies and commands in defense, intelligence and law enforcement as well as eDiscovery and risk management applications to major corporations. RiverGlass is a private company with principal offices in West Chicago and Champaign, Illinois. The development of the RiverGlass technologies was funded in part through a grant by the Illinois Department of Commerce and Economic Opportunity.
Contact
Martha MacPherson
D4, LLC
585-385-4040
Email
###