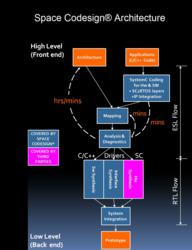 With the time-to-market pressure in the aerospace arena, the need for rapid application development can be addressed with SpaceStudio™'s sophisticated front-end tool, even before RTL simulation, FPGA prototype availability, or the actual hardware is ready
Montreal, Qc (PRWEB) May 17, 2011
Space Codesign® Systems announced today the availability of Version 2.0 of its SpaceStudio™ virtual platform technology, providing a higher level of abstraction and executable representation of embedded systems design. With new additional libraries tailored to aerospace system architects and software developers, SpaceStudio™ 2.0 offers upgraded support for TLM-2.0 (transaction level modeling) and serves as a comprehensive Electronic System Level (ESL) tool that covers the entire System-On-Chip (SoC) design cycle.
"With the growing need for complex embedded systems, the hardware/software partitioning and mapping process has become extremely difficult and complicated," said Guy Bois, Ing., PhD, President of Space Codesign® Systems. "With the pressure of time-to-market in the aerospace arena, the need for rapid software application development can be addressed with SpaceStudio™'s sophisticated front-end design tool, even before RTL simulation, FPGA prototype availability, or the actual hardware is ready."
From early architectural-level software development through embedded systems simulation and validation to prototyping, SpaceStudio™ 2.0 is open for third-party integration, while supporting several industry standards and multiple levels of design abstraction. Its emphasis on full visibility for any part of embedded systems design, hardware or software, means that system architects and software developers can fully analyze, in a transparent and non-intrusive manner, any discrepancies and can determine the best hardware-software partitioning while SpaceStudio™ virtual platform technology adjusts the correct attributes and automatically generates the software code.
Additionally, even while using current front-end design tools, engineers may take time in making numerous design iterations, especially if a major architectural change must be made. Most ESL design platforms target hardware design, so a separate software development path must still be undertaken and then integration performed between the hardware and the software. That integration is not always assured and can lead to further rounds of design iterations.
SpaceStudio™ 2.0 can perform hardware/software partitioning rapidly and dramatically reduce time-to-market of embedded systems. Manual SystemC to C/C++ or VHDL/Verilog recoding is not necessary, as SpaceStudio™ 2.0 can generate the code automatically through links to implementation flows in Space Codesign®'s GenX technology (e.g., to high level synthesis flows, or by mappings to libraries such as Xilinx EDK). "All current and previous versions of SpaceStudio™ support Xilinx FPGA, MicroBlaze and PowerPC processors," said Bois. "SpaceStudio™ 2.0 truly sets the bar for virtual platform technology moving forward."
About Space Codesign Systems, Inc.
Founded in 2008, Space Codesign® Systems, Inc. offers virtual platform technology products and services for the creation of embedded systems applications centered on ESL (Electronic System Level) design technology and hardware/software codesign methodology. Space Codesign® Systems' technology was initially developed in the Microelectronics and Microsystems Group (GRM2) at École Polytechnique de Montréal, where SpaceStudio™ technology has matured to become a powerful and unique front-end design tool. The company is supported by both innovation development funds and private investments that have enabled technology transfer and further product development to create state-of-the-art virtual platform technology.
# # #