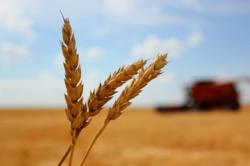 Tracy Zeorian, custom harvester and current president of the US Custom Harvesters organization says, "We cannot lose the focus of where our food comes from. This documentary will help demonstrate the importance of wheat production within our communities."
Frederick, MD (PRWEB) May 17, 2011
ConjoStudios, LLC is proud to announce the production of an educational film documenting the current state of the Wheat industry and telling the story of custom harvesters who harvest the wheat that feeds the world.
"The goal of this documentary is to tell the story of an important part of our American agriculture few people know about. We will explore the lives of hard working American families who spend a good portion of each year living in travel trailers, moving from state to state harvesting the wheat that feeds the world. They take incredible financial risks in order to get this vital crop to market," shared Conrad Weaver, president ConjoStudios.
Wheat is grown in 42 states across the country and America's farmers cannot justify the high cost of harvesting equipment when they only use it a couple of times a year. In order to ensure they can meet the harvest requirements, many farmers hire custom harvesters to harvest their crops. Custom harvesters make significant investments in equipment: combines, trucks, tractors, grain carts, travel trailers and more. Combines alone can cost as much as $500,000 each.
Custom harvesters take the journey each year from Texas to Montana harvesting the wheat crop which ripens at about 20 miles per day northward beginning in May. Harvesters usually start in Texas, stay in one location for a week or two, then they move a couple of hundred miles north to the next location to catch up with the ripened wheat. The wheat is cut then it is transported to a local grain silo for storage until it is transported to mills, or to the coast for international shipment.
"People need to know our story. People need to know what it takes to get that loaf of bread on the table," shares Dan Misener, a third generation custom harvester.
Tracy Zeorian, a custom harvester and current president of the US Custom Harvesters organization says, "We cannot lose the focus of where our food comes from. Once we do that, how are we going to know what we're eating? This documentary will help tell that story."
"The custom harvesters and the farmers they serve are some of the best people I've ever met," says Weaver. "I'm honored to have the opportunity to get to know these hard-working Americans, and thrilled that I get to produce a film that is so important in the history of our nation, and in the history of agriculture."
About Conjo Studios
Conjostudios, LLC is owned and operated by award-winning videographer and producer, Conrad Weaver. Conrad has provided video services for government agencies, large and small companies, non-profits and individuals. Recently Conrad received a 2011 Telly Award for producing a documentary film about "Mi Refugio" - a story about an incredible school for poor children in Guatemala.
###