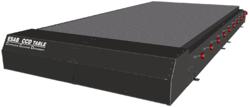 Florence, SC (PRWEB) May 16, 2011
ESAB Cutting Systems introduces its next generation of self-cleaning cutting tables designed to reduce operating cost and improve efficiency. The simple design of these continuous cleaning downdraft (CCD) tables pushes slag and small parts to the end of the table for easy clean out. This reduces down-time between cuts, because the table does not require a separate cleaning cycle, and reduces maintenance labor because the table cleans itself. Parts are removed quickly with less fouling from slag.
The CCD table works on a simple principle. A heavy duty drag chain pulls a plow across the floor below the cutting surface. This simple, sturdy blade design can run under the table even while plasma or oxy-fuel cutting. The endless loop chain arrangement allows the plow to continuously run in the same direction, with no complicated reversing mechanism and no reversing switches or electrical control systems. The standard AC motor and rugged gearbox operate in only one direction.
As a self cleaning table, the CCD reduces operating costs by eliminating periodic system shutdown while the table is cleaned. It also eliminates the need to remove burning bars or lift and empty slag trays. Slag and small parts are automatically plowed to the end of the table for easy cleanout. For high volume applications or extended table lengths, the frequency of cleaning can be increased by installing additional plow blades on the chain. The simple, continuous chain design permits multiple blades without any effect on performance or construction.
Designed for plasma and oxy-fuel cutting of materials up to four inches thick, the CCD table provides efficient fume capture through a system of mechanically actuated zone dampers. Because fumes are exhausted from both sides of the table, plates do not need to be biased toward one side.
The modular design of the CCD table allows a variety of table sizes to be assembled from common modules. The table is shipped in modules and easily bolted together on site. This reduces lead times and shipping costs, since no oversize loads are required.
ESAB Welding & Cutting Products is one of the world's largest and most knowledgeable manufacturers of welding and cutting equipment and welding filler metals. To ensure customer satisfaction, many ESAB products carry a 100% Satisfaction Guarantee. Recognized as the technological leader in the industry, ESAB is committed to providing customized solutions for its customers. For more information on these products, visit http://www.esabna.com, http://www.esab-cutting.com or call 1-800-ESAB-123.
###