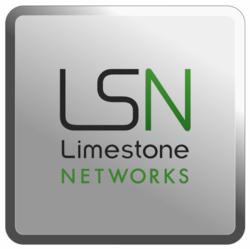 Dallas, TX (PRWEB) May 18, 2011
Limestone Networks, the Dallas-based, on-demand dedicated server provider, has unveiled a new logo and website.
In late 2010, Limestone Networks began plans to initiate a massive overhaul of their main company website. The design plans quickly turned into a complete image re-design, led by company CEO Gary Kendall. Kendall comments that, "We have constantly added new content to the website. This project was about communicating our real company culture: simple, solid, and superior. The new branding embodies our straightforward process and professional focus."
Beginning production in early 2011, the company first started with a logo re-design. The new company logo portrays a much more 'grown-up' feel compared to the slightly more playful "lime" logo which the company had used for the last several years. The logo redesign provided a foundation for the entire project. The new website is in-line with the logo in terms of simplicity and professionalism. Using a tabbed design, the company accomplished their main goal of making an enormous amount of information readable and aesthetically appealing.
The re-branding efforts, made public on May 10, 2011, represent the culmination of years of building a company image. Contact the Limestone Networks Marketing Staff at media(at)limestonenetworks(dot)com for more information.
###