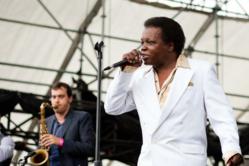 Lee Field's smooth yet gritty vocal style can't fail to simultaneously uplift and soothe the listener's soul
New York, NY (PRWEB) May 17, 2011
BDA Records, New York announced today that it will be releasing a new album from veteran soul, dance, and blues singer Lee Fields. The new release titled "Treacherous" will be the first solo project from the legendary singer/front-man since his last release titled "My World" with his band The Expressions on Truth and Soul Records in 2009.
Earmarked to hit the streets in May of 2011 this stellar new record is without question Lee's best and most original work to date. The new release, which will be available both digitally and on CD, is a compilation of Lee's true-to-heart style and modern original music compositions. Combining soul, funk, pop, blues, and with a major focus on today's most popular genre of music, club and dance, Lee and his new solo record "Treacherous" will quickly show the urban music community that he is here to stay and go at it on his own quite literally.
Lee Field's legendary career spans many decades and musical styles. Over the years, he has recorded and performed live with a huge variety of icon and legendary artists.
Now he is going for the gusto with his own original project, having already recorded with Martin Solveig (Universal), Sharon Jones and the Dapkings (Daptone Records) among many others.
He also fronted the hit machine Kool and the Gang for a 6 month period in 1970, and has performed with Maroon 5, B.B. King, Jerry Butler, Percy Sledge, and the late great Gerald Lavert. Most recently Lee has performed as a special featured guest for the ™Grammy award winning artists The Black Keys in New York City, and was direct support for P-Diddy at a Brown University concert event just last month.
"The songs on this album are timeless and all very commercial. We had some time of it trying to pick the initial single" states Field's publicist Ken Cavalier - Allure Media Entertainment Group, Inc. – New York. Treacherous showcases this energetic singer like never before with great creativity in the songwriting, more diversity in music styles, and a broader selection of instrumentation. One might be hesitant to categorize Treacherous in any particular genre. The wide range of song styles from soul, pop, RnB, funk, blues, and with a special emphasis on dance and club music only further displays Lee Field's unique and diversified mainstream soul sound.
This is especially evident in the stand-out single "I Want to Get With You" where Fields demonstrates his smooth yet gritty vocal style which can't fail to simultaneously uplift and soothe the listener's soul.
And how does Lee Fields feel he fits into his target market? "My music and songs have a very cool rhythmic edge to it and emphasizes great memorable melodies, energy, and most importantly huge hooks throughout every song" states Lee. "I wrote and produced the music on my new album deliberately in multiple urban/soul based genres so it fit into multiple markets and appeals to a larger variety of listeners from soul, pop, dance, to the blues".
"Treacherous" has already begun to attract the curiosity and attention of hundreds of urban terrestrial radio stations and program directors around the country and the project has received commitments from many stations to add the record to their rotation upon its release on May 17th including the following prestigious stations:
KMEZ - New Orleans, Louisiana
WJMI - Jackson, Mississippi.
WIMX - Toledo, Ohio
KOKY - Little Rock, Arkansas
WMGL - Charleston, S.Carolina
WLXC - Columbia, S.Carolina
WWDM - Columbia, S.Carolina
WPFW - Washington, DC
WPWZ - Rocky Mt. N.C
Treacherous will be available on May 17th at cdbaby.com and by digital download at iTunes and is a real treat for listeners that enjoy Lee's unique blend of urban soul music. You can visit his website for a sneak preview of the album and to learn more about Lee Fields at http://www.leefieldsmusic.com
Track Listing
We're Here To Turn It Out
I have Been Hurt
I Want To Get With You [Focus Single]
Living For The Gusto
Man Hunt
He Doesn't Care About You
At The End Of The Day
Dance Like You're Naked
I Want You So Bad
We're Here To Turn It Out (instr)
Media Relations Contact
Ken Cavalier, Publicist
Allure Media Entertainment, Inc.
1.888.242.9331 x105
http://www.allureartists.com
# # #