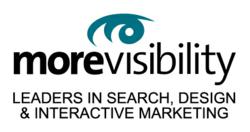 It's very exciting to collaborate with other Women In Technology and be able to share my knowledge and expertise during this training session. -Danielle Leitch, EVP
(PRWEB) May 17, 2011
MoreVisibility, one of the world's largest and most experienced search engine marketing and optimization (SEM/SEO) agencies, today announced that they have partnered with Women In Technology International (WITI) to present a Webinar on Google Analytics.
MoreVisibility is a proven industry expert in Google Analytics, having been recognized as an official Google Analytics Certified Partner (GACP), one of only a select few agencies to have been awarded this partnership. The company prides itself on educating the online marketing industry on the importance of using analytics data to drive business decisions to improve ROI.
This partnership provides a monumental opportunity for this interactive marketing leader to train WITI's Association members on ways to improve business through the Google platform. MoreVisibility's goal is to continue to be a resource for those in the interactive marketing space. Their leadership is confident that this Webinar will be the cornerstone for a valued and lasting relationship with WITI into the future, as MoreVisibility helps to add value to the Association's membership. MoreVisibility is grateful to be in collaboration with the leading organization for professional, tech savy women.
Hosted by evp Danielle Leitch, the 60-minute Webinar titled, "Google Website Analytics – Why, What & How", will take place on Wednesday May 18, 2011 at 3:00 pm (est), and cover the following:
*Why Google Analytics is an important business asset
*URL Tagging for variety of marketing campaigns & social media efforts
*Goal configuration and determining what goals to set-up
*Uses of advanced segments: Mobile, Social tracking and more
*How to select what reports to use and which will help boost ROI
"It's very exciting to collaborate with other Women In Technology and be able to share my knowledge and expertise during this training session," offers Danielle Leitch.
For more information on the webinar and to register, click here.
About MoreVisibility
Founded in 1999, MoreVisibility is one of the world's leading Search Engine Marketing, Optimization and Design firms, having helped hundreds of Fortune 1000 companies and small businesses increase qualified traffic to their Web sites. In 2005, 2006, 2007, 2008, 2009 and 2010 MoreVisibility was named to the Inc 500/Inc 5000 list of the nation's fastest growing privately owned firms. MoreVisibility is a Google AdWords Certified Partner, Google Analytics Certified Partner and a member of the MSN Search Council.
MoreVisibility boasts high client retention through a team of 30 senior professionals who deliver superior performance and measurable results. Notable clients served include Direct Marketing Association (DMA), Children's Hospital of Philadelphia, The Metropolitan Museum of Art, Dairy Council of California, RSM McGladrey, The Mayo Clinic, Travel Nevada, Ritz Carlton Residential Suites and Clemson University. The company is based in Boca Raton, Fla., and can be found on the web at http://www.MoreVisibility.com.
###