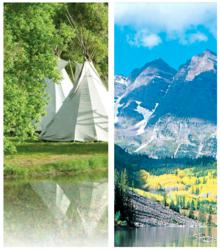 "ILCC is a new paradigm for Indian Country: Indian people creating Indian solutions using Indian resources." - Bill Lomax, NAFOA
Roscoe, Montana (PRWEB) May 17, 2011
ILCC, a leader in tribal land financing and acquisition, announces federal recognition as a certified Community Development Financial Institution (CDFI). Conferred by the U.S. Treasury Department's Community Development Financial Institutions Fund, or CDFI Fund, this distinction makes ILCC eligible to access special financial and technical assistance awards from the CDFI Fund.
"This prestigious recognition will help ILCC leverage funding sources and continue to deliver innovative and effective financial instruments and technical assistance to Native American tribes and communities," says Gerald Sherman (Oglala Lakota), ILCC President.
To earn CDFI certification, an organization must be a specialized financial institution that works in a market niche underserved by traditional financial institutions, have a primary mission of promoting community development, and provide development services in conjunction with its financial activities, among other requirements.
"CDFIs provide a unique range of financial products and services to economically distressed target markets," said CDFI Fund Director Donna J. Gambrell. "We are pleased to recognize ILCC as a certified Native CDFI serving Indian Country."
ILCC joins only two other organizations certified by the CDFI Fund during the month of April, bringing the total number of Native CDFIs to 62 nationwide. Within the expanding financial services infrastructure — including credit unions, commercial banks, and revolving loan and venture capital funds—providing credit and services on Native lands, Sherman believes ILCC's position is unique.
"ILCC is backed by leading tribes, tribal organizations, and social investment groups. We are deeply vested in the Native communities we serve. By incorporating tribal values and Native strengths to develop and deliver financial services, aligning private capital with tribal goals, and promoting a system for ownership and self determination, ILCC helps advance tribal sovereignty and nation building," says Sherman. "We recast tribal sovereignty and diversity as assets rather than liabilities," Sherman adds.
Cris Stainbrook (Oglala Lakota), Indian Land Tenure Foundation] (ILTF) president and chairman of ILCC's board, agrees that helping Native nations to reclaim financial, operational, and jurisdictional control over their land is critical to the future of Indian Country - and that ILCC is playing a leadership role in this movement.
"The Foundation's mission is to ensure that Indian people and tribes have full ownership and control of their land and assets. ILCC is a fundamentally important resource available to tribes to help make this happen," says Stainbrook.
In 2009, ILCC provided the Yurok Tribe of California a $1 million bridge loan. In April of this year, the Tribe finalized the purchase of 22,237 acres of land, part of the Yurok's aboriginal territory. This land purchase is the first in a multi-phase land acquisition project that will incorporate sustainable forestry management practices to protect salmon, improve water quality, and restore meadows that traditionally supported subsistence hunting and gathering.
"The Tribe has long sought the return of ancestral land to create a salmon sanctuary and restore tribal cultural management practices, which benefit fish, wildlife and the ecosystem as a whole," Yurok Tribal Chairman Thomas O'Rourke said.
In 2011, ILCC plans to raise a $4 million investment fund from banks, foundations and Native tribes and organizations towards building a $100 million investment fund for Indian Country over the next ten years. The organization's goal is to combine Native values and resources to empower economic and cultural transformation across Indian Country.
About ILCC and its Founding Partners
ILCC was created as a collaborative effort between the Indian Land Tenure Foundation (ILTF) and Native American Community Development Corporation (NACDC) to bridge the gap in lending to tribes and to facilitate the acquisition of Indian lands for social, cultural and economic purposes. As partners of ILCC, ILTF and NACDC provide technical support and grants to tribes for the development of strategic land acquisition plans. ILTF is a national, community-based organization focused on American Indian land recovery and management. It works to promote education, increase cultural awareness, create economic opportunity, and reform the legal and administrative systems that prevent Indian people from owning and controlling reservation lands. NACDC is the nonprofit affiliate of the Native American Bank. NACDC's mission is to remove the barriers that exist in Indian Country that prohibit the flow of capital and credit. NACDC addresses critical needs in Native communities related to growth of family assets and sustainable economic development. NACDC provides financing, technical support and training to Native communities and tribal members for housing, economic development and land recovery. Elouise Cobell (Blackfeet) serves as NACDC's Executive Director.
###