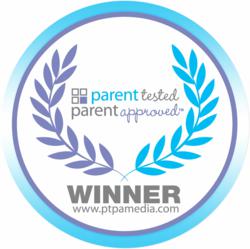 The PTPA Winner's Seal on a product package or website helps parents identify products that have been tested and recommended by other parents
Toronto, Ontario (PRWEB) May 17, 2011
A backpack for camp with a lunchbox that clips on instead of in by Lands End, a moisturizer that rids you of red irritated skin by Diane Lai, a natural body wash that leaves you smelling like honey by Burts Bees, an anti-bacterial teething bonbon by Dress Me Up Organics and a parenting book by award winning author Amy Lou Jenkins. These are just a few of the exciting new recipients of the Parent Tested Parent Approved Seal of Approval (PTPA Media).
PTPA Media has North America's largest parent tester community – they are a leader in their field with over 40,000 families signed up as testers.
"The PTPA Winner's Seal on a product package or website helps parents identify products that have been tested and recommended by other parents. It's like shopping with your best friend," says PTPA Founder and CEO, Sharon Vinderine.
Since 2008, PTPA has evaluated thousands of products and services from both leading manufacturers and emerging brands. Because independent parents evaluate these products in their own homes, PTPA winners are chosen based on merit and consumer experience – not on commercial considerations.
PTPA Media has become a recognized source by the media for credible and reliable recommendations for the audience. PTPA Founder Sharon Vinderine has presented PTPA winners on over 40 morning shows including the Rachael Ray Show, Fox and Friends and Canada AM.
Here are just a few of the innovative new products to receive the PTPA Winner's Seal of Approval for Summer 2011:
Early Lingo DVD Series – An exciting and fun way for your children to learn a new language. Turn to these animated DVD's that teach English, French and Spanish to your little ones.
L'il Critters Gummy Vites – A tasty alternative to dry chalky vitamins, L'il Critters have the essential vitamins and minerals your kids need to grow up happy, healthy and strong. Made with natural colors and flavors.
Grovia Newborn Diaper- With eco-friendly trends on the rise, these all in one cloth diapers with ultra soft organic cotton and a super absorbent cotton inner make Grovia the natural choice.
Fridge-to-go Lunch Fridge – With no need for an icepack, these lunchbags have 30% more space than traditional insulated bags and they keep cool for up to 8 hours. A must have for all campers!
Greenhouse Kids Books - Seeds of reading fun are planted with these charming gardening-themed characters. With characters such as Dan Delion and Snap Dragon, and themed as part mystery and part educational, we dare your kids not to be entertained by this series by Shelley Awad.
Safe n'See Digital baby Monitor – With night vision, soothing lullabies and temperature monitoring, this all in one monitor gives parents the reassurance they need when putting their babies to sleep for the night.
For a complete list of award winners, visit http://ptpamedia.com/product-listing#/campaign/48/Summer+2011
About PTPA Media Inc.
PTPA Media provides an objective framework for appraising and promoting new products designed to enrich family living. The company's mission is to marry innovative companies with discerning consumers, to improve consumer access to quality products and services for their families and homes.
##