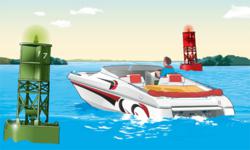 This course was excellent! One of the best courses I have ever taken. A quality product and well worth the money.
Dallas, TX (PRWEB) May 18, 2011
It's the perfect time to do your part to make Virginia boating safe and enjoyable—National Safe Boating Week begins May 21. Become an educated, responsible boater by completing the Boat Virginia safe boating course and practice what you learn.
Virginia has a mandatory boating education law. As of July 1, 2011, PWC operators 50 years of age or younger and motorboat operators 20 years of age or younger must have a boating safety education certificate. Although it's often called a boating license (or jet ski license), the certificate isn't like a driver's license—it's good for life and never has to be renewed.
At Boat-Ed.com (http://www.Boat-Ed.com/Virginia), boaters learn the official boat education content developed for the Virginia Department of Game and Inland Fisheries. Students move quickly through short segments designed for bite-sized reading and quick comprehension. Learning is reinforced with interactive animations that put you in the driver's seat. Students feel like they're on the water as they study casting off and docking, rescue techniques, the "Circle of Death," and other boaters safety course topics.
Best of all, Boat Ed's online boating course includes more than an hour of streaming video with 45 exciting on-the-water action sequences. A student said: "The videos drove the point home or provided a review. This was way better than sitting in a classroom, and I liked the fact that you could do it in your own time!" Getting an online boaters license has never been so fun!
Students study the fast-paced boating safety course (http://www.Boat-Ed.com/Virginia) online when it fits their schedule. The course fee includes the boat course and unit quizzes—there isn't a final online boating license test. No payment is required until after you pass. At that time, you can immediately print out a temporary certificate and get on the water right away. You will receive your permanent boating education certificate (or boating licence, as it's sometimes called) by mail.
Some prefer to learn about boating safety as a family, so Boat Ed also offers the official Boat Virginia video home-study course with mail-in boat license exam (http://www.Boat-Ed.com/Virginia/video.html).
The recognized leader in boating safety, Boat Ed is the official and exclusive provider of print, video, or online boating safety courses for 49 states, plus the U.S. Coast Guard Auxiliary. For more information about boater's licence or safety certification requirements, please visit Boat-Ed.com (http://www.Boat-Ed.com/).
###