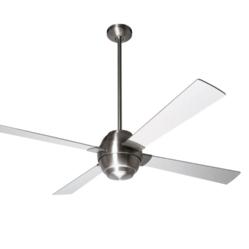 This new collection builds on The Modern Fan Company's tradition of strong, modern design that have become classics in contemporary homes
Sacramento, CA (PRWEB) May 16, 2011
Lumens Light + Living (http://www.lumens.com) has introduced the new collection of http:/http://www.twitter.com/lumensdotcom/contemporary ceiling fans from The Modern Fan Company. New fan designs include the Gusto Ceiling Fan, Gusto Hugger Fan, Stella Ceiling Fan, Plum Ceiling Fan and the DC Slim Ceiling Fan.
"This new collection builds on The Modern Fan Company's tradition of strong, modern design that have become classics in contemporary homes," said Ken Plumlee, president and CEO of Lumens Light + Living. "These products continue to set a great example of form meeting function in modern design."
New releases from The Modern Fan Company are comprised of:
Gusto Ceiling Fan and Gusto Hugger Fan: Showcasing characteristic sleek, contemporary design, the Gusto expresses what the Modern Fan Company is all about. Geometric from and a symmetrical structure represent designer Ron Rezek's roots in design: simple and minimal, all while striking a balance between subtlety and visual interest.
Plum Ceiling Fan: Designed for modern interiors large and small, The Modern Fan Company Plum Ceiling Fan features three tapered blades swirling around a pleasantly rounded motor housing. The motor and/or the optional light kit can be controlled via a variety of available controls.
Stella Ceiling Fan:
DC Slim: Contemporary design meets energy efficiency. The bullet-like shape highlights the fan's glass shade, providing a unique sculptural presence in any space. Great for larger contemporary rooms, the energy efficient Modern Fan Company DC Slim Ceiling Fan features 3 fan blades for excellent air flow as well as bright, fluorescent lamping. It's also powered by a DC motor, which is quieter and uses up to 70% less energy than its traditional AC counterpart.
Stella Ceilng Fan: Designed by Dave Ellis, the Stella Ceiling Fan deviates from the aluminum and white finishes that are characteristic of The Modern Fan Company, instead featuring a mahogany or maple wood finish. The Stella Ceiling Fan features an open, beehive-shaped structure encircling both the cylindrical glass shade and fan motor housing. Multiple finish/blade, lamping, size and control options are available.
Led by design entrepreneur Ron Rezek, The Modern Fan Company is more than just a name. Rezek started the company to bring contemporary design to ceiling fans, and has designed many best-selling fans such as the Ball Ceiling Fan, Cirrus Ceiling Fan and the Altus Ceiling Fan. Modern Fan Company products celebrate the modern idiom through mechanical simplification, geometric forms and contemporary finishes, and are intended to meet the needs of the professional specifier and the design-minded homeowner alike.
Lumens offers the full collection from The Modern Fan Company, with free shipping within 24 hours on most items. In addition to these new products, Lumens.com also offers:
-Low-price guarantee
-Expert service via our customer service center
-Easy, no-hassle returns
-Volume order discounts
-More than 300 manufacturers, from contemporary ceiling fans, modern lighting to transitional fixtures and modern furnishings, gifts and home accessories.
For additional information on these products or Lumens.com, contact Sarah Schaale or visit lumens.com.
About Lumens Light + Living:
Lumens Light + Living is dedicated to offering the very best of design-oriented lighting, fans and home accessories, from the most contemporary international designs to modern interpretations of classic design. Visit us on Facebook and Twitter.
Contact:
Sarah Schaale, Assistant Marketing Manager
Lumens Light + Living
916-444-5885
http://www.lumens.com
# # #