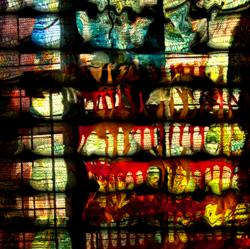 Venice has its Bienale. Basel, Switzerland, has its Art Basel. And Reno has the NadaDada Motel, a jubilantly unpretentious art event…
Reno, NV (PRWEB) May 26, 2011
NadaDada artists from northern Nevada and France will join together for an exhibit entitled "Ordinarily Radical Mobile" as part of the annual NadaDada event that occurs in Reno every year.
This year, for the first, time, the City of Reno will act as a partner in the counterculture event in order to show that municipalities can find new ways to support the arts despite a lack of public funding.
"Art is a creative endeavor and so there's no reason why a city can't be creative in its approach toward the arts," said Christine Fey, Reno's Resource Development and Cultural Affairs Manager. "Although public funding for the arts is limited at the moment, Reno is exploding with artists and we believe that organic art movements such as NadaDada bring value to the community without a cost to taxpayers. We are, therefore, interested in helping these collectives succeed."
This year, Original NadaDada artist Steven K. James (S.K. James) will curate, with the City's assistance, an exhibit of artists including John Molezzo, Dianna Sion and Christopher Robin Blum from Reno and Guillaumette Duplaix and Herve Leger from Paris.
About NadaDada
NadaDada is a group of artists who came to prominence in 2007 with the first Dada Motel Exhibit centered at the historic El Cortez Hotel in Reno, Nevada. Like the Beat Generation, The Bloomsbury Set or the earlier Transcendentalism movement, the artists of NadaDada routinely portray in their work cultural circumstances that they helped to inspire. Common themes in their art include alienation, apocalypse, sexuality, absolute freedom, and revolution against the politics of art. Though NadaDada finds meaning in the anti-bourgeois phenomena of Dadaism, which began in Switzerland during World War I, NadaDada represents an even further negation of the negation of Dada. NadaDada artists adhere to the credo that "the absurd holds no terror."
The New York Times helped to cement the spread and the fame of NadaDada when it reported, in 2009, that "Venice has its Bienale. Basel, Switzerland, has its Art Basel. And Reno has the NadaDada Motel, a jubilantly unpretentious art event…" Aside from the yearly NadaDada event, NadaDada artists have exhibited in museums and galleries outside of Reno, at the Los Angeles Center for Digital Art, and in virtual exhibits across the internet. NadaDada artists have created hundreds of videos and thousands of visual images in the name of NadaDada, and tens of thousands of people have seen their work. In the spring of 2011 NadaDada artists contributed neon art and paintings to the production of The Motel Life, a soon-to-be-released movie starring Emile Hirsch and Dakota Fanning.
###