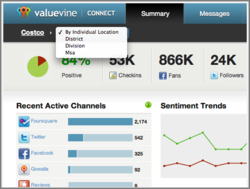 What sets Valuevine's analytics platform apart from other social media monitoring platforms is that it is specifically designed for brands where physical locations are their primary customer touch point.
Seattle, Washington (PRWEB) May 24, 2011
Today Valuevine announced the official launch of its partner program that offers agencies and other service companies a way to seamlessly provide the Valuevine Connect location-based social media analytics data directly to their clients. In addition to arming agencies with the only comprehensive location-based social media analytics dashboard currently available, the turnkey program also offers generous added revenue opportunities for partner agencies.
What sets Valuevine's analytics platform apart from other social media monitoring platforms is that it is specifically designed for brands where their physical locations are their primary customer touch point. Today, traditional keyword-based monitoring solutions have a critical "blind spot" that Valuevine Connect fills. Just as important, Valuevine Connect measures and benchmarks sentiment, trends, and compares social media activity in the context of a brand's geographic footprint.
Every day, millions of consumers post valuable content to 3rd party websites about their experience, attitude, product/service quality, and if they would refer a business to others in their social graph. These sites include Foursquare, Facebook Places, Yahoo Local, CitySearch, Gowalla, and also more traditional review sources like City Search and Yelp. Valuevine's technology discovers, tracks and analyzes all of this activity for brands, which often numbers in the thousands of activities per day. Proprietary analytics features and notifications in the platform automatically surface trends and issues that need attention by the business.
"We are committed to providing our agency partners with technology that can not only set them apart from their peers, but also increase the resolution on customer experience and activity at their clients' storefronts," said Valuevine CEO Neil Crist. "General web and social media monitoring solutions today fail to meet the specific needs of brands that rely on their locations to represent their brand."
Today, Valuevine launches this program with 5 signed agency partners in place and servicing some of the largest and most well recognized consumer brands.
Benefits of the partner program include:

Expanded Reputation, Customer Sentiment, and Operations Reporting. Valuevine Connect searches, discovers and aggregates information from thousands of location-based sources, arming agency professionals with the tools to easily build more in-depth reporting for their clients. Examples include: brand reputation reports, customer sentiment benchmarking and trending, retail operations evaluations, and competitive monitoring.
Generous, Flexible Recurring Commission and Discount Structure. The Partner Program offers agencies a flexibility to integrate Valuevine's monthly subscription platform into their client billing flow, with a generous recurring commissions layer for the life of an account.
Reporting and Usage Flexibility to Match Each Individual Brand's Needs. Whether clients want the ability to see Connect data daily themselves, or they just want a quarterly location-based marketing trends report, agencies can easily provide their clients with the best multi-location analytics data available. Connect dashboard access is fully customizable by brand.
Powerful Admin View to Create and Manage Client Accounts. A secure administrative dashboard is built for each agency partner, providing agency professionals with everything they need to create, edit, and manage Valuevine Connect for their clients.
Partner Collaboration to Optimize the Value of Connect. Extensive onboarding ensures that every brand using Connect is set up and compiling data accurately from the start, and monthly check-in calls with Valuevine trainers help agency professionals learn how to glean the most from the data.
The Valuevine Partner Program is available to any marketing, PR and service agency, and is designed to be most valuable to those with clients with multiple location businesses, such as: retail, restaurant, and hotel chains; and franchise brands. For more information, visit http://www.valuevine.com/agencies/.
About Valuevine
Valuevine, Inc. provides social media and location-based analytics and marketing software to premier brands. Their technology suite provides specialized capabilities for multi-location, retail and restaurant chains, and franchise brands. Today, Valuevine's technology is used by nearly 100 recognized national brands and thousands of locations worldwide. For more information visit http://www.valuevine.com. Valuevine also offers brands a free location-based report at http://www.SocialFootprintReport.com.
###