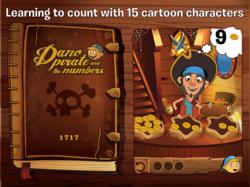 San Francisco, CA (PRWEB) May 17, 2011
Bambino Avenue today released Dano Pirate & The Numbers, an educational app that turns maths and learning to count into a pirate-themed adventure for preschoolers and kindergartners.
The richly animated app for the iPod Touch, iPhone and iPad features a cast of cartoon characters who guide young players through 20 numbers-based mini-games.
Dano Pirate & The Numbers helps children:

Write by tracing outlines of the numbers 1 through 9 with their fingers. Unlike other preschool math apps, arrows and guide points appear along the way.
Read by matching spoken numbers with the written numbers.
Understand order by filling in the gaps of a numerical sequence.
Comprehend quantity by matching sets of objects with the correct written number.
The app features beautiful animations and music, an engrossing interactive pirate story and artificial intelligence that increases the activities' difficulty based on the child's performance and understanding. Parents also can monitor their child's progress within the app.
Dano Pirate's activities were selected and refined by educators at top U.S. elementary schools and support national mathematics standards.
In one of the mini-games, children must identify and tap on a number to help Dano through a maze to reach Julia the Princess. In another, players match the quantity of a set of objects by tapping the correct number. In another, the player must guide Dano across a pond by tapping on numbered islands in the correct sequence. As the game advances, players are asked to help Dano by counting backward.
Achievements are rewarded with cheers and smiles — and stickers for the sail of the player's pirate ship.
"This app has everything kids need to know to be good at numbers, and it's done in a fun way," says Rose, a pre-K teacher. "Kids will have fun playing various games with cute characters, but it's really designed so they learn a lot. Underneath the surface and the fun, they really learn."
Dano Pirate & The Numbers is available today at Apple Inc.'s App Store for $1.99 (iPod Touch and iPhone) or $2.99 (iPad, iPad 2).
About Bambino Avenue
Bambino Avenue is an independent developer of iPhone and iPad Apps, with a special emphasis on strong educational content and beautiful illustrations and animations.
Press contact : nick(at)bambinoavenue(dot)com
###